The following article has been written by one of our Trust members.  They are the opinions of that person and not necessarily those of Blues Trust.  Would you like to contribute a discussion point of your own about Birmingham City Football Club?  If so, we would be delighted to hear from you.
February 2011 to March 2022 is a long time in football. Clubs change direction, managers come and go as do players themselves of course. New gems of young talent emerge, either from within a club's own youth set up or as imported loan players who suddenly sparkle. They will also stay or, most likely in our case, go if they show real quality. At BCFC we have endured these eleven years with the lifting of the Carling Cup as the sole beacon of joy, although the first season back in the Championship and the European adventure with Chris Houghton at the helm delivered many memorable moments.
As far as the decade that followed is concerned, we have been denied of any real intent of progress. Escaping relegation and surviving in general has been the overriding target. This campaign we have once again dodged the lower league trap door…or at least it looks that way…and we are left hoping the close season will bring a new change to our fortunes leading to better results next term. Realistically, though, we are in an even harder battle to secure a top six spot with relegated clubs still benefiting from parachute payments. Let's hope the Fan Led Review really does manage to deliver reform of that particular issue.
We know the system and we accept the facts, but we still have hope and belief that next time around we might just find a formula to get into a play-off position by seasons end. Where we are right now at Blues we have to think along these lines, because mega cash is not around the corner as far as I can see. Maybe Messrs. Dutton and Gardner know different. My point is centred on the 'here and now', but of course we have been here before and the 'here and now' is becoming monotonous and frustrating after so many seasons of disappointment. The question is do we as BCFC, which carries the second City's name, have the determination to plot a true business plan for a Premier League return?
Eleven seasons out of the top tier is either acceptable with our hierarchy or it is not. If, as I hope it isn't, then now is the time to get serious. Talk of transition always sounds good, and it encourages us supporters to believe that old dead wood will be eased out and new younger talents will replace. But it is hollow if no improvement is achieved.
My hope is that transition doesn't go on for ever and our forthcoming twelfth Championship season really does raise levels of satisfaction. St. Andrew's open for all would be a good start, and a clear statement of intent. Money will not be the obvious solution and therefore a new blueprint is necessary. Luton, Coventry and Huddersfield have achieved that this season and given themselves a decent shot at the play-offs.
Since that delirious February day in 2011, when Wembley triumph was beyond football happiness, surely there must be a second space in the souls of all Blues followers to experience another happening?
Mitchell Bray
​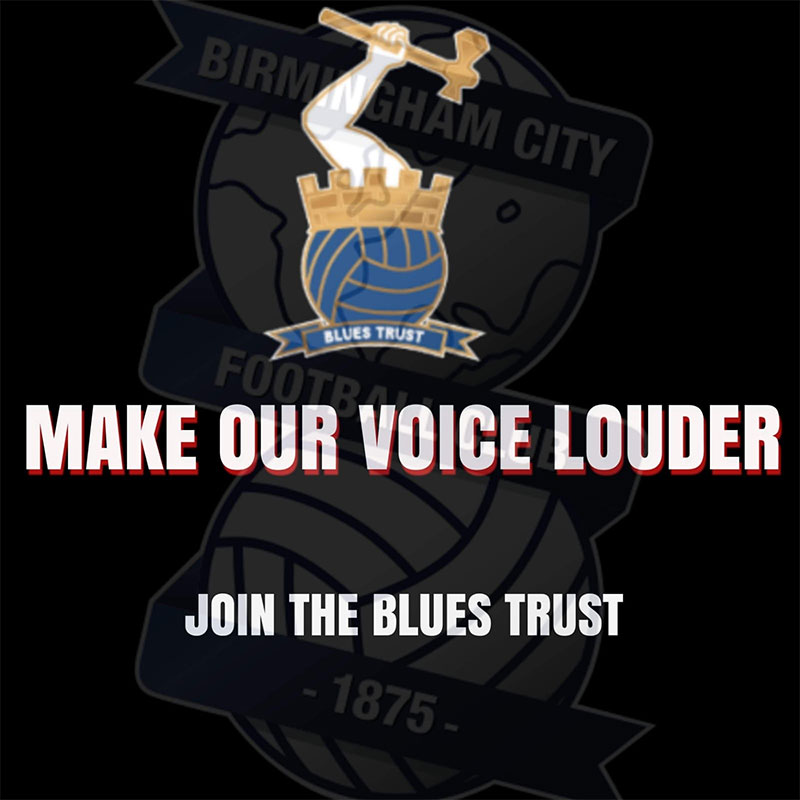 Want to be a full member with voting rights?
We have options for 1 and 2 years at £5 per year.  There is also a 5 year membership for £20 so you get 5 years for the price of 4.  See information and options here.
By making comments:
All we ask is that it relates to the Club that we all love. It can inform, question, challenge, criticise even….but it should not be written to threaten and/or cause personal offence.
By making comments on the above article, you agree to Blues Trust retaining your email address should we need to make contact with you for admin purposes.   Let us know at admin@bluestrust.org if you do not wish us to do this.  We will not give out your email address to any 3rd party sources.
The Trust reserves the right to moderate any comments made (in consultation with the writer) or to deny publication if comments are considered to be inconsistent with the requirements identified above.