Football Supporters Association: Ukraine Crisis
Blues Trust is affiliated to the Football Supporters Association (FSA). The FSA is the democratic, representative body for football supporters in England and Wales. It is the leading advocate for supporter ownership, better fan engagement, cheaper ticket prices, the choice to stand at matches, protecting fan rights, good governance within football clubs, the promotion of diversity and types of fan empowerment.
Blues Trust has worked closely with the FSA to support the Fan Led Review of Football, and we are continuing to do so. Going forward, the Trust will also be sharing FSA newsletters with members and other Blues supporters more directly, and we would welcome any views you might have about what is being discussed.
The latest FSA newsletter leads with the horror that is currently unfolding in Ukraine. Blues Trust utterly condemns the violence being inflicted on the people of Ukraine at this very moment and like millions of other people across the world, we want it to stop immediately.
The Trust also understands that some members of the Blues family are caught up in it. If you are in Ukraine and, somehow, you are able to read this, you are in our thoughts and prayers and we want you safely back with us at St. Andrew's very, very soon.
​Blues Trust
---
Here is the latest Newsletter from the FSA.  You may need to scroll down within the newsletter frame to see the full content.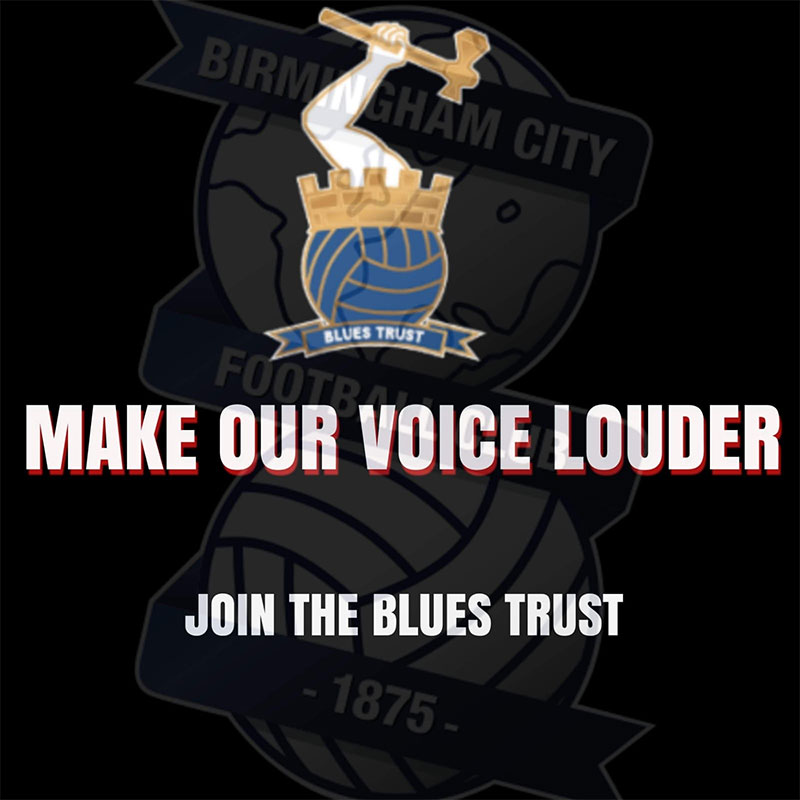 Want to be a full member with voting rights?
We have options for 1 and 2 years at £5 per year.  There is also a 5 year membership for £20 so you get 5 years for the price of 4.  See information and options here.
By making comments:
All we ask is that it relates to the Club that we all love. It can inform, question, challenge, criticise even….but it should not be written to threaten and/or cause personal offence.
By making comments on the above article, you agree to Blues Trust retaining your email address should we need to make contact with you for admin purposes.   Let us know at admin@bluestrust.org if you do not wish us to do this.  We will not give out your email address to any 3rd party sources.
The Trust reserves the right to moderate any comments made (in consultation with the writer) or to deny publication if comments are considered to be inconsistent with the requirements identified above.