The following article has been written by one of our Trust members.  They are the opinions of that person and not necessarily those of Blues Trust.  Would you like to contribute a discussion point of your own about Birmingham City Football Club?  If so, we would be delighted to hear from you.
​After this latest international break, with zero Championship football, all eyes will now be firmly focused on our remaining seven league games. More particularly the spotlight will be on Lee Bowyer, as this will be his time. Simply put, Lee has been waiting to show what he is all about once his preferred squad is ready for selection.
Wretched injuries and suspensions have hampered him greatly, resulting in us limping along picking up paltry rewards. Now, with West Bromwich Albion first up, Lee Bowyer has an almost fully fit squad to select from. This should enable him to fulfil his wishes and show us how and why he is keen to display his first-choice personnel. But of course, the proof of the pudding will be in the eating…..
Pressure certainly, but this is now the time to face reality and particularly so with next season on the horizon. A fully fit Birmingham City should be a serious proposition in this division, and I believe it can. Who then can return and strengthen Bowyer's belief for better times? Maybe Troy Deeney, Lyle Taylor, Kristian Pederson, together with Maxime Colin, Tahith Chong and Taylor Richards who have all recently become available again. Quite a welcoming six.
In my view, this mini seven game programme is crucial if only to determine whether or not Lee Bowyer's first team choice is up to mounting a better challenge next term. Of course, some current loan players may not return next season, but Lee is shaping the side to play as he wants it to and it is that influence and vision that now matters. West Brom need to be the first to feel our first choice eleven, with a home win long overdue.
As we currently sit very sadly on the lower rungs of the Championship table, there should surely now be a determined effort to glean some respectability and achieve a run of pleasing results. We have the players back and we have games left to display our true colours, albeit only seven. But above all there lies ahead the opportunity for Lee Bowyer to show us what he is all about with proper tools at his disposal. We wish him well.
Mitchell Bray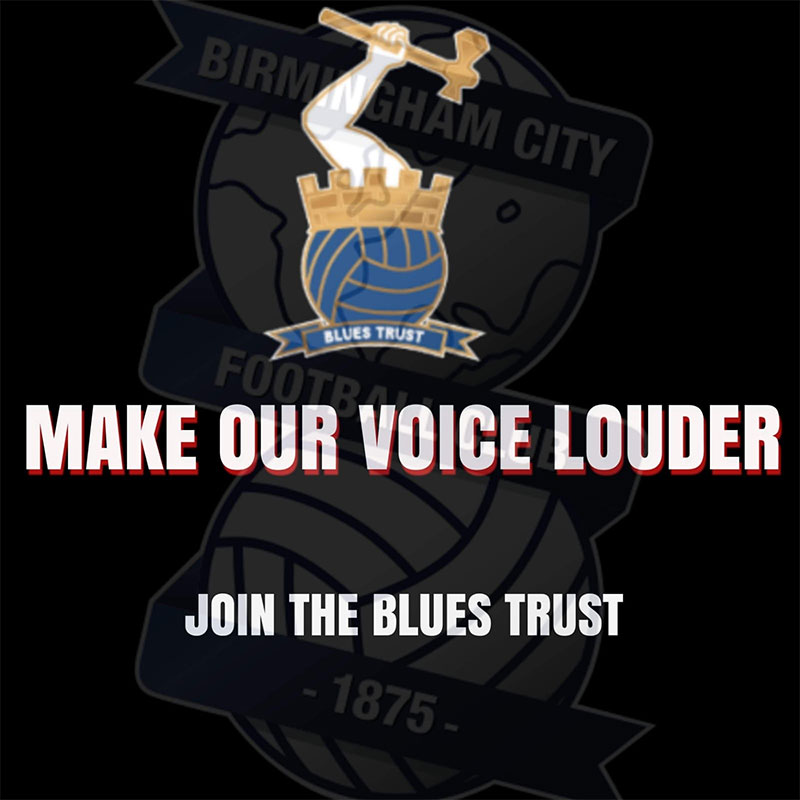 Want to be a full member with voting rights?
We have options for 1 and 2 years at £5 per year.  There is also a 5 year membership for £20 so you get 5 years for the price of 4.  See information and options here.
By making comments:
All we ask is that it relates to the Club that we all love. It can inform, question, challenge, criticise even….but it should not be written to threaten and/or cause personal offence.
By making comments on the above article, you agree to Blues Trust retaining your email address should we need to make contact with you for admin purposes.   Let us know at admin@bluestrust.org if you do not wish us to do this.  We will not give out your email address to any 3rd party sources.
The Trust reserves the right to moderate any comments made (in consultation with the writer) or to deny publication if comments are considered to be inconsistent with the requirements identified above.