A Night To Forget…If Only I Could
Isn't it odd how particular times of the year can evoke memories, sometimes vivid, from many years past? Often good ones. Sometimes bad. In my case when March turns to April I find myself transported back to the most painful night I have experienced in all my 55 years watching the Blues. If I add an FA Cup semi-final, which usually always occur in early April, then I'm sure many of you will know exactly where I'm going with this.
This week, on the 9 April, it will be exactly 47 years since Blues rocked up at Maine Road, then the home ground of Manchester City, to play an FA Cup semi-final replay against Fulham. It was 1975. Blues lost. One nil. With Fulham's winning goal being scored in the very last minute of extra time.
Defeat, of course, is nothing new to any football supporter. It is part and parcel of the game after all. Even the very best teams in the world lose from time to time. But there are defeats. And then there are catastrophes that can simply never be forgotten.
In the late 60's and early 70's Blues had a pretty decent record in the FA Cup which, in those days, I would argue was valued far more highly as a competition that it is today. There were good teams around at the time of course, some very good, but no two or three clubs completely dominated football in the way that we have come to expect now. So most teams had a decent chance of being successful.
Three times in seven seasons Blues made it to the semi-final of the competition. In 1968 Blues lost 2-0 to the Baggies at Villa Park. I was at the game, although I was only a nipper at the time and don't remember too much about it. I do remember the excitement of being in a crowd of 60,000 though. In 1972 Blues made the semi-final again, only to lose 3-0 to Leeds United at Hillsborough in Sheffield. I was also at that one and, although disappointed, didn't think we could complain about the result. It wasn't unexpected. Leeds were a top side at the time, although certainly not popular because of their approach to the game. But they were comfortable winners on the day.
In 1975 expectations were different. Very different. This time Blues were in with a shout. And a good one at that.
The cup run that season had been good. Away wins at Luton and then Chelsea got some momentum going. A fifth-round tie with Walsall at St. Andrew's was watched by 45,000 people and Blues won 2-1. Goals from Bob Hatton and Kenny Burns secured the victory that took us into the quarter finals. The draw was kind and we found ourselves at home again, this time against Middlesbrough. That was a match and a half as I recall. Over 47,000 crammed into St Andrew's, and Bob Hatton nicked the only goal of the game. The atmosphere was electric and the tension off the scale as the Blues held on. Just.
And so on to the semi-final. Three first division teams left in and one, Fulham, from the second. As my mates and I gathered around a transistor radio the following Monday, just before lunchtime, everything was crossed that Blues would be pulled out of the hat with Fulham. And they were. Surely this would be our time after the two recent disappointments? West Ham and Ipswich Town would contest the other tie.
The match against Fulham was to be played at Hillsborough and tickets were like gold dust. And they had to be queued for back in those days, even for those of us with season tickets. That meant missing a night's sleep and being at the ground for at least 2am. My heart sank when I turned up and I joined the end of the queue way down the Coventry Road. Oh well…..fingers crossed.  Fortunately I got a ticket and, on match day, made my way to Sheffield with 25000 other Blues supporters. And those were the ones with tickets! Many, many more travelled without.
Fulham were not to be taken lightly. Their team included Alan Mullery and the imperious Bobby Moore after all, both ex England internationals although then in the autumn of their careers. And, oh yes, they also had a forward called John Mitchell. But more about him shortly. As for Blues, the team that day was a strong one with several legends….Dave Latchford, Page, Pendrey, Kendall, Gallagher, Roberts, Campbell, Burns, Hatton, Taylor. And, in my opinion, probably the best player ever to wear royal blue, Trevor Francis. We would be fine.
The match didn't go quite according to plan though. It finished 1-1 and, to be fair, Fulham deserved to win on the day. They dominated large parts of the game and missed several good chances. Mullery and Moore were afforded too much respect and Mitchell scored a screamer just after half time. Blues pegged them back though when big Joe Gallagher found himself with room in the box and turned sweetly to steer the ball past Mellor in the Fulham goal. That's how it finished, and it was off to Maine Road, Manchester the following Wednesday for the replay. Another queue through the night on the Coventry Road first though.
There was no colours change for the replay. Blues turned out in blue and white because Fulham chose again to play in their lucky red and black striped shirts. In view of what followed, that was a masterstroke.
If Fulham were on top for the first match, there is no doubt that Blues were easily the better side in the replay. Manager Freddie Goodwin was forced to make a couple of changes because of injuries to John Roberts and Alan Campbell. Bryant and Hendrie came in and Garry Pendrey moved to centre back. Blues dominated the game and created chance after chance. But they came up against a goalkeeper who was inspired on the night, and they simply couldn't score. The match went into extra time still goalless.
Extra time followed the same pattern as the rest of the match. Blues on top. But as we reached the last minute of the second period, although disappointed, thoughts had turned to a second replay that was scheduled for the following week at Highbury in London. Another queue. No worries, we'll just have to beat them down there.
And then……Then……..In the very last seconds, with the referee looking at his watch, Fulham launched a long ball into the Blues box. A headed flick on, a hopeful prod from that man Mitchell, the ball hitting Dave Latchford in the chest before striking Mitchell again on the rebound and bobbling over the line. The shock was immediate, and the pain followed a nano second later. Neither have ever really left me since. Everyone else stood on the Kippax stand around me was stunned too. I was in tears all the way back down the M6 through the night to Kingshurst.
That experience didn't dent my love of football and the Blues in particular. In fact, I think it strengthened the bond I have for the club. Adversity can sometimes do that. And since then, I have been lucky enough to see the club achieve success on several occasions, including at Wembley in a major final of course. And in strangely similar circumstances with an unusual goal at the end.
But the memory of that night at Maine Road will never leave me, even though at times I wish it would!
Richard Docker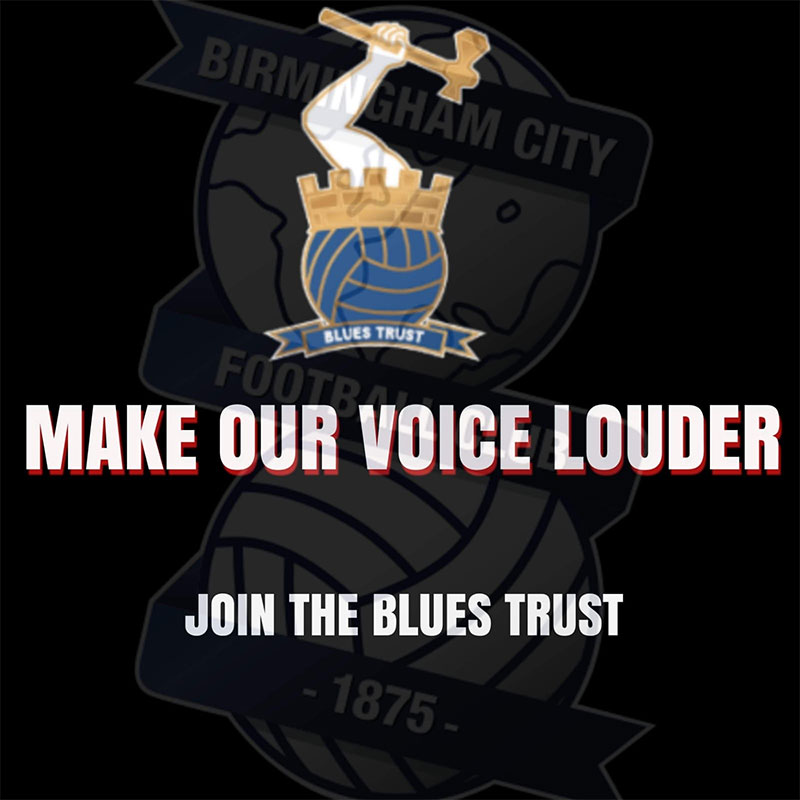 Want to be a full member with voting rights?
We have options for 1 and 2 years at £5 per year.  There is also a 5 year membership for £20 so you get 5 years for the price of 4.  See information and options here.
By making comments:
All we ask is that it relates to the Club that we all love. It can inform, question, challenge, criticise even….but it should not be written to threaten and/or cause personal offence.
By making comments on the above article, you agree to Blues Trust retaining your email address should we need to make contact with you for admin purposes.   Let us know at admin@bluestrust.org if you do not wish us to do this.  We will not give out your email address to any 3rd party sources.
The Trust reserves the right to moderate any comments made (in consultation with the writer) or to deny publication if comments are considered to be inconsistent with the requirements identified above.