Without the points deductions for Derby(21) and Reading(6), Blues would be in the bottom 3
There has been plenty said about Blues, the management and the ownership in recent weeks. But writing in the aftermath of the Blackpool embarrassment it feels like we may have reached a watershed. Six-one feels like a full stop and a sign that the players have given up, if that wasn't already entirely evident from the much-retweeted Coventry fourth goal.
As ever, the full Birmingham Live post-match transcript of Lee Bowyer's post‑Coventry comments made for interesting reading and, again, suggesting that perhaps all isn't well between players and manager. This, however, is hardly new. We have been here so many times over the last few years, with similar players and different managers. But the same pernicious, systemic illness infecting everything underneath it.
It sometimes helps in these situations to step back and take stock of the facts.
I think we can all agree that Bowyer started very well. He arrived and immediately focused on the basics. He made the team tough to beat and installed a formation the players were comfortable with. He made the right noises about improving the players, exaggerating their positives and allowing our limited talent to exercise itself in a way that we hadn't seen since Garry Monk.
The end of last season supported his claims. We stayed up comfortably with a series of dogged performances, players seemingly comfortable in their roles and, crucially, with their strengths identified and appropriately utilised (for instance, Marc Roberts' crossing ability for a centre half). I've always thought that you can tell a good manager by their ability to make the best of what they have, and the end of last season had plenty of reassuring tells to that effect.
By contrast, this season it's felt like we have ignored all of that and have continuously tried to run before we can walk. It is all very well being able to play a certain way with certain players, but the very best managers start with resource before system and tweak as they go. Again, this was the approach that served us so well after Bowyer came in late last season. He set the team up and we were robust, dogged and refreshingly basic after the disorientation of the previous season where we were closer than ever to getting the flush to League One.
Bowyer has exercised his frustrations in a similar way to the Coventry post‑mortem on several occasions this season, lamenting his players' ability to execute his instructions. Notably, he has singled out individuals for public criticism on more than one occasion. A bold move even from elite managers with unerring bonds with their players. One must hope that his relationship with players like Scott Hogan, who has returned his second-best ever goal tally at this level, is robust enough to endure what that player might perceive as constant public comment. Bowyer may well be right when he says that players these days are thin‑skinned and self‑absorbed. But this is the reality he has to work within and the humans he has to work with, and all managers have to find a way of navigating this. Public criticism is best avoided in football management unless you have significant stores of political capital.
Full disclosure up front. I like Bowyer. I think he deserves some slack from us for his playing achievements and he did unbelievably well to keep us up comfortably last season from a very weak position. The early signs were promising. He was calm, methodical and, crucially, seemed to have a plan of how he wanted to play.
However, over the course of this season something has gone deeply wrong and at present it doesn't look like we have much of an idea of how to fix it.
To give Bowyer credit there have been some tangible improvements on the pitch. The goal tally has improved (although not as much as the defence has deteriorated) and we've had some real bright spots of play (albeit sporadically). The manager has correctly identified bad apple(s) in the dressing room, and it looks like the estranged ex-captain is only the first out of the door in a comprehensive summer refresh. Bowyer is now part of a growing rump of ex‑Blues players in senior positions, vitally important for a club whose fierce and unique self-identity has been its enduring characteristic through thin and even thinner.
The rest of this season's numbers are less convincing. Starting with the most important measures, Blues have a poorer points tally after this number of games than all but two of the last ten seasons. The most telling is the now well‑worn meme that, EFL sanctions to Reading and Derby notwithstanding, we would currently be in the bottom three.
In fairness, we are where we are, and our points tally at this stage is compatible with the last few seasons. And we have been near enough safe for several weeks. However, rather than make the most of the breathing space to give the players license to play and engender confidence with the system, we have become brittle, confused and disjointed. Currently, it is very hard to see what we are trying to do, or why, and the constant changes to system and personnel do not exactly lend themselves to improvement.
Furthermore, we know from bitter recent experience that late‑season form too easily translates across the summer break. It is impossible to reconcile Bowyer's insistence on the current formation, nullifying the effects of our most effective player and doing precious little to protect the defence. We cannot rely on bringing back the perfect pieces of the puzzle (Chong, Sarkic) over the summer, praying for unicorns and magic elves. We need a plan B, a more resilient and replicable way of playing that leans into our strengths and embodies our identity as a club rather than relying on a particular set of delicate and friable parameters outside of our control.
However, this analysis applies to the entire club, bottom to top – wherever that is. It has been encouraging to note the efforts to improve day to day leadership, but individuals in an organisation cannot succeed long term without effective organisational support, without overall leadership and strategy and a coherent medium‑term plan. We have watched over the last decade as, frankly, much lesser clubs have far outstripped us. Clubs with people in charge who have thought and planned and cared for their business and its development and the community it serves. Blues are blessed with resources. It really should not be that hard.
If Bowyer does not survive this defeat, succumbing like so many before him to a combination of his own idiosyncrasies and the sickening, chaotic effect of Blues' structural weaknesses, then we are left again at the start of a new chapter with little clue as to how to proceed. We can all fantasise about manager x and y, but nobody currently employed in a progressive club would take a second glance at the mess at St Andrew's right now. The paradox is that the team is crying out for the kind of leader able to bend every element of the ailing club to their will – starting with a team in their image – to have any chance of reclaiming the club's identity and reinvigorate Blues as we know them. As manager after manager fail in the same way, it becomes harder to see where we might find such a character.
Karim Adab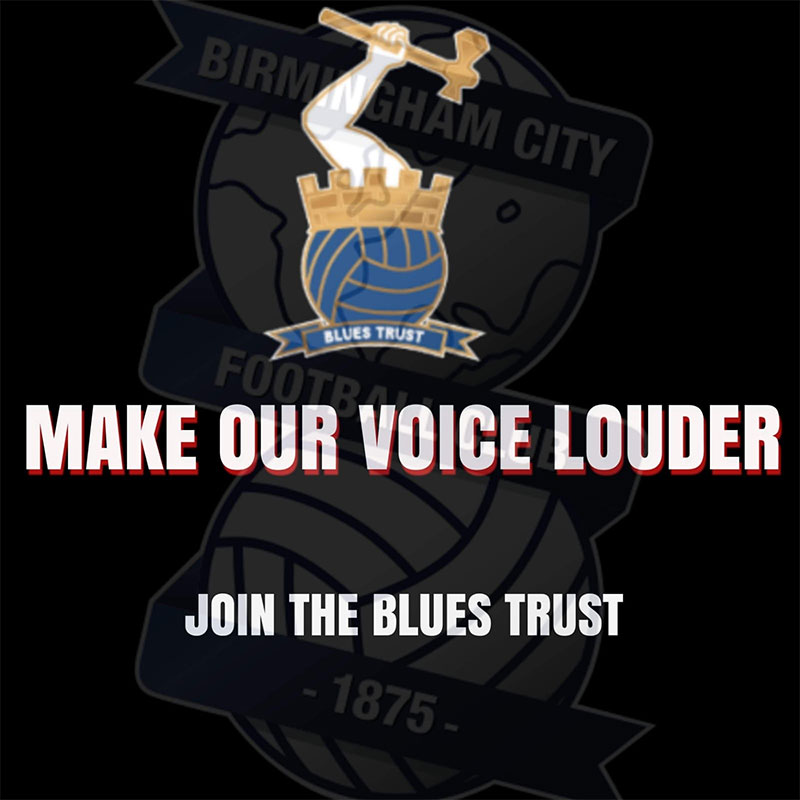 Want to be a full member with voting rights?
We have options for 1 and 2 years at £5 per year.  There is also a 5 year membership for £20 so you get 5 years for the price of 4.  See information and options here.
By making comments:
All we ask is that it relates to the Club that we all love. It can inform, question, challenge, criticise even….but it should not be written to threaten and/or cause personal offence.
By making comments on the above article, you agree to Blues Trust retaining your email address should we need to make contact with you for admin purposes.   Let us know at admin@bluestrust.org if you do not wish us to do this.  We will not give out your email address to any 3rd party sources.
The Trust reserves the right to moderate any comments made (in consultation with the writer) or to deny publication if comments are considered to be inconsistent with the requirements identified above.