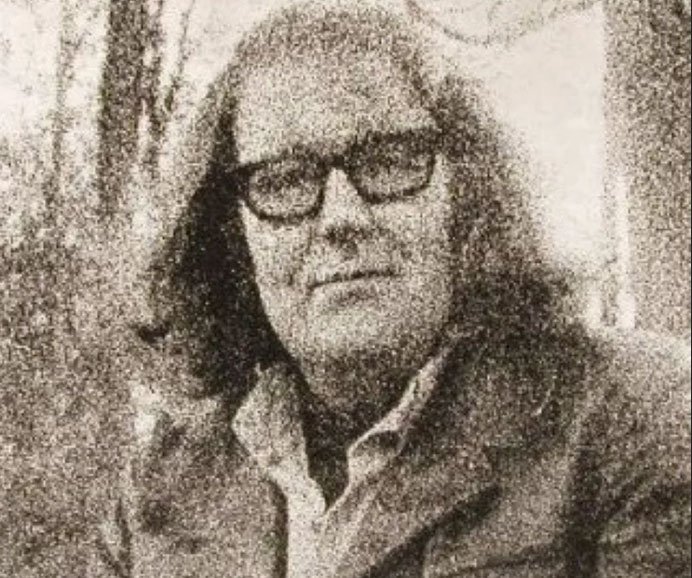 THREE long years!
Well, that is the first clue. I know some of our older members ears may prick up! Do you recognise these starting lyrics? Furthermore, do you know which Bluenose made the record? Who opened the first club shop at St Andrews? I never knew but do now.
If you do know you are in for a treat. And if you don't you will learn a little about the sometimes comical history of OUR club and it's anthem recordings. I hope to please all with this article. Enjoy!
I cannot hold back my excitement anymore. Harvey Andrews is an icon at St Andrews. I have played all his records over and over for years, and now I have had the privilege to speak to him and ask him about his days at St Andrew's.  A huge thank you to Harvey.
Harvey was born in early May of 1943. His father was born in Garrison Lane and so, as he sings, 'It's in his blood.' After the house in Garrison Lane was bombed the family moved out to Aston where Harvey regularly cycled from to watch Blues play. Harvey's first football match was with his father in 1952 and Scottish winger Jackie Stewart was his favourite player at the time. He became a regular supporter from then on.
Harvey's auntie ran a shop in Sheldon, which many Blues players used to visit as customers. Harvey would often go and stay with her in the school holidays to help out in the shop. He got to know many of his heroes as a result. Apparently, Birmingham City owned a few houses in Sheldon where  the players lived. He remembers Gordon Astall putting him on his shoulders when he was 9 years old. Kinsey, Brown, Peter (Spud) Murphy, Gill Merrick (who he says was fearless) and Bertie Auld (who was a real entertainer on the pitch) were amongst some of his favourite footballers at St Andrews.
On leaving school Harvey went to college. He trained as a junior schoolteacher and ended up teaching at Canterbury Cross school, Perry Barr in Birmingham, where he had also been a pupil.
David Exhall, who ran the pools office at St Andrew's, knew about Harvey's love of music and song writing so he asked if Harvey would write a couple of little ditties, which he happily did. Blues played them over the loudspeakers at St. Andrews. Our anthems 'Good Old Brummagem' and 'Home and Away' were born and still live on as our Blues songs today. Everyone of my era will know and love them. They are a part of a life's diary that is installed in Bluenoses today.
In 1964 Harvey began singing at the folk clubs and turned professional in 1966. Since then he has made 16 albums of his own songs, and he has played all over the world including on Ascension Island for troops coming home from the Falklands war. He has also written the songs for the Birmingham play 'Go and Play Up Your Own End'.
Harvey teamed up with his friend Chris Rohman in 1965, and they performed for a time as a duo. He recalls recording a little 'ditty" that the pair could play at an important match against QPR. Before the game the duo went out on the pitch with non-working microphones, as they were going to have to mime to the recording. The lyrics were written to the old song "Bye Bye Blackbird". Harvey and Chris sang "Bye Bye Rangers". A QPR fan ran on the pitch and grabbed the microphones. Of course, Harvey and Chris could still be heard singing over the speakers. It was wonderful to hear 30,000 fans laughing their heads off, but it was also a bit of an embarrassment to Harvey and Chris who couldn't wait to get off the pitch. Oh, and by the way, Blues lost.
David Exall then approached Harvey to ask if he would be interested in running a brand-new venture for the club. David needed someone to set up and run a Blues shop. Harvey jumped at the chance, especially as it would be only the second football club to have an onsite shop. Manchester United was the first. They built a substantial wooden hut where Harvey would sell programmes, hats, rosettes and scarves. He was there for 18 months. He set up a mailing list and after one match he was short of 10 programmes to send out. Harvey asked the club secretary, Alan Instone, who had a pile of programmes available for the directors, if he could have ten. Instone said no and asked Harvey "Who is more important, the fans or the directors?" Harvey answered "the fans!"  Instone had him sacked.
Harvey went on to set up and run another club's shop, but do you know which one? Email me the answer if you do lindamagner@bluestrust.org
I will let you know in Part II, which will be coming soon. Look out for it!
Linda Magner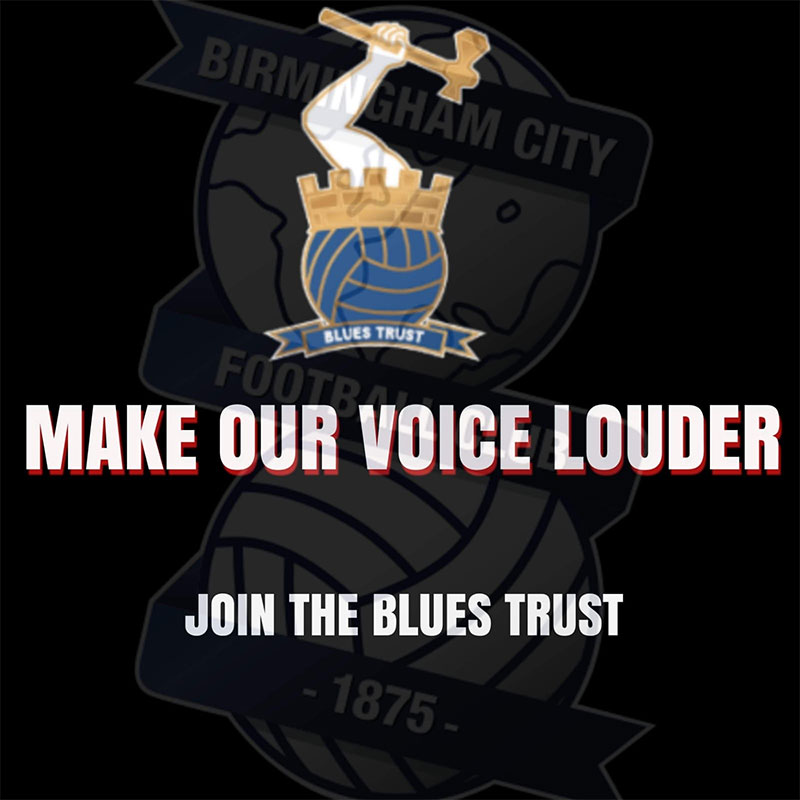 Want to be a full member with voting rights?
We have options for 1 and 2 years at £5 per year.  There is also a 5 year membership for £20 so you get 5 years for the price of 4.  See information and options here.
By making comments:
All we ask is that it relates to the Club that we all love. It can inform, question, challenge, criticise even….but it should not be written to threaten and/or cause personal offence.
By making comments on the above article, you agree to Blues Trust retaining your email address should we need to make contact with you for admin purposes.   Let us know at admin@bluestrust.org if you do not wish us to do this.  We will not give out your email address to any 3rd party sources.
The Trust reserves the right to moderate any comments made (in consultation with the writer) or to deny publication if comments are considered to be inconsistent with the requirements identified above.