It is clear to just about every Blues fan that the club is in crisis. We all want to see action to resolve the issues that are seemingly paralysing it right now, but it seems every issue comes with the comment "it's complex and will take time". Unfortunately, this is true but very frustrating.
Fans have challenged the owners through protests, investigative work and raising issues with different authorities. These efforts have all contributed to making it more uncomfortable for them to have our club in their portfolio. This, together with the reported financial and legal difficulties of Wang Yaohui, appear to have moved them from the position of saying the club is not for sale.
Since the end of last season, a state of limbo has set in. Really important matters such as preparing a team ready for the challenges of a new season and repairing the ground appear to have been put on the back burner whilst the owners entertain bids for the club. Exactly who is negotiating on behalf of the owners, and who the bidders are, have been the subject of rumour, with very limited factual information made available publicly. It is the case that any parties to a negotiation are prevented by law, and probably agreement, from disclosing what is going on so as fans we are left waiting, hoping and becoming more frustrated as delays continue.
The revelations made last week by Radio Free Asia (RFA), in a lengthy article written with input from Blues blogger Daniel Ivery, came as no surprise to the Trust. We have raised the issue of ownership of our club with the authorities on several occasions.
For those who haven't seen it, the main points of the RFA article are:
one of the major shareholders of Blues parent company, and therefore of Blues, is the rather inappropriately named Dragon Villa Ltd which currently own 12.8% of the club;
the club identifies Dragon Villa Ltd as being owned by Mr Lei Sutong in its disclosure statement;
a sworn affidavit submitted to the Supreme Court of Singapore shows that the beneficial owner of Dragon Villa Ltd is in fact Mr Wang Yaohui, a naturalised Cambodian citizen. This would suggest that Dragon Villa Ltd is effectively controlled by Wang Yaohui rather than Lei Sutong. This would appear to violate EFL regulations which make it a requirement to declare all persons who have a "significant interest" in a football club;
the article also alleges that a major current shareholder in Blues, Mr Vong Pech, is "a close relative of Wang Yaohui who frequently fronts ownership of companies and assets for him".
These are potentially serious allegations which could have repercussions for the club and implications for its sale.
Since the news broke, Blues Trust has been in contact with various parties including the EFL, the Football Supporters Association, Tracey Crouch MP (who has been leading the Fan Led Review) and Shabana Mahmood, MP for Ladywood, who has taken up the fans concerns previously.
The Trust is pressing the EFL to investigate these allegations swiftly and effectively, unlike previously when the EFL ignored our requests and those made by others. And, if it is established that any rules have in fact been broken, to focus any penalties against those stakeholders and club officials who are responsible for the breach rather than the team (most likely through the deduction of points) and, as a consequence, against the fans. We will keep fans informed of any progress.
This latest information and the reported difficulties of the elusive owners, together with lack of progress on other issues, means the value of what may be on sale to a prospective new owner is probably reducing and the urgency for the current owners to raise funds is probably increasing. This moving target creates an unstable situation which means finalising a deal more difficult and consequently is less likely. This creates a higher risk for current bidders and other interested parties who may well be biding their time in the expectation that the seller will become more desperate.
So we remain in the waiting game. Waiting for new owners, but again unsure how this will come about and how long it will take.
Blues Trust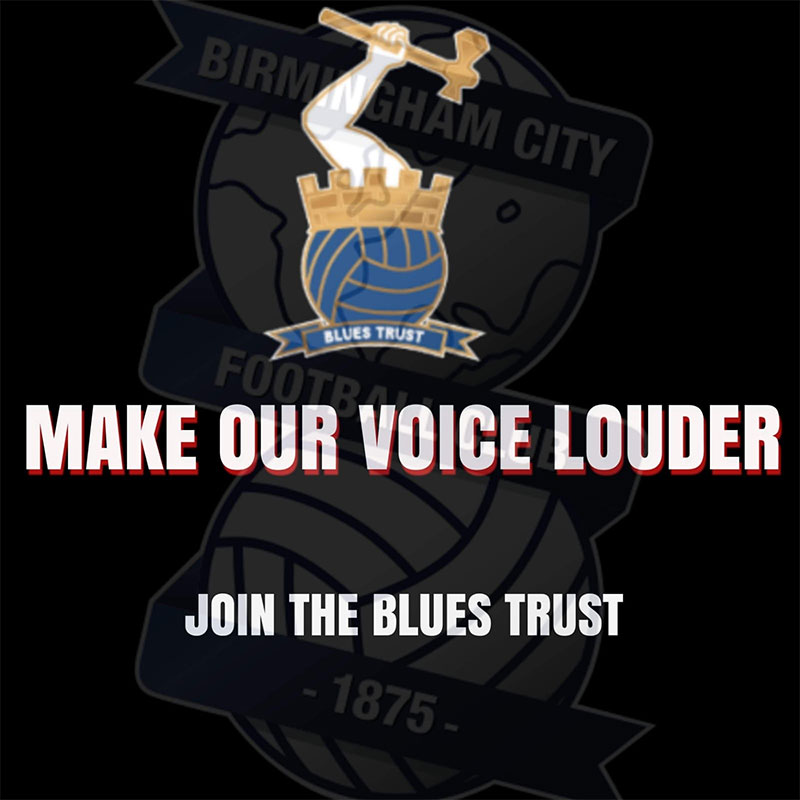 Want to be a full member with voting rights?
We have options for 1 and 2 years at £5 per year.  There is also a 5 year membership for £20 so you get 5 years for the price of 4.  See information and options here.
By making comments:
All we ask is that it relates to the Club that we all love. It can inform, question, challenge, criticise even….but it should not be written to threaten and/or cause personal offence.
By making comments on the above article, you agree to Blues Trust retaining your email address should we need to make contact with you for admin purposes.   Let us know at admin@bluestrust.org if you do not wish us to do this.  We will not give out your email address to any 3rd party sources.
The Trust reserves the right to moderate any comments made (in consultation with the writer) or to deny publication if comments are considered to be inconsistent with the requirements identified above.