BCFC: Takeover – EFL Response
Blues supporters will need no reminding of the rumour and speculation that is currently swirling around the club regarding the possibility of a change of ownership. The uncertainty has been dragging on for weeks now and it is a cause of real concern for fans, not least because much of what is appearing in the media is comedic drivel.
Given the speculation, the Trust wants to share with members and other supporters a response that we have received from the EFL today (see below). It relates to only one piece of the jigsaw of course, but it is an important piece nonetheless and the response would appear to suggest that change will not be happening any time soon.
Cliff, [Blues Trust Chair]

 Thanks for the email and very conscious that we have not yet responded.

 What we can advise and clarify at this stage is that further to media speculation and social media noise the EFL is not currently in receipt of documentation from any individual regarding acquisition of control at Birmingham City.

 In addition, all Clubs are aware of the requirements under EFL Regulations for prior approval alongside what conditions exist in the instances when an individual is seeking to acquire control.  It should also be noted that control is not necessarily defined as being 30% or more of the shareholding.

 I'm afraid that is all we can advise on at this stage and the League will endeavour to keep the Trust updated as appropriate.

 I appreciate you will want to update your network through the appropriate channels.

 Kind regards

 Mark.

 Mark Rowan

Communication Director
Blues Trust has been liaising with the appropriate authorities, and others involved in the proceedings, since the possibility of change was first identified at the end of last season. We will continue to do so and will share more details with you once they are known and confirmed.
Blues Trust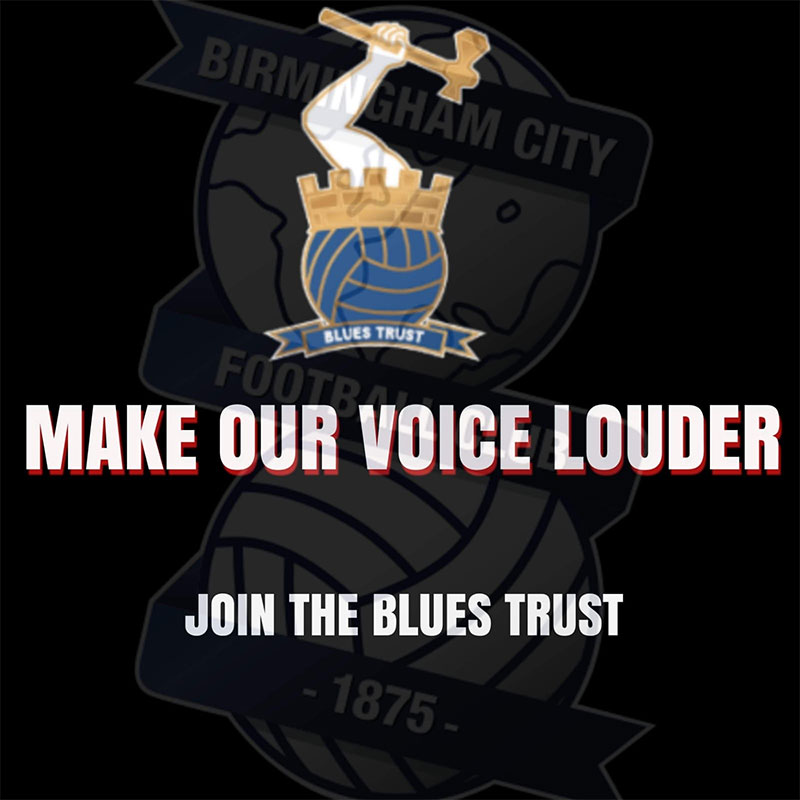 Want to be a full member with voting rights?
We have options for 1 and 2 years at £5 per year.  There is also a 5 year membership for £20 so you get 5 years for the price of 4.  See information and options here.
By making comments:
All we ask is that it relates to the Club that we all love. It can inform, question, challenge, criticise even….but it should not be written to threaten and/or cause personal offence.
By making comments on the above article, you agree to Blues Trust retaining your email address should we need to make contact with you for admin purposes.   Let us know at admin@bluestrust.org if you do not wish us to do this.  We will not give out your email address to any 3rd party sources.
The Trust reserves the right to moderate any comments made (in consultation with the writer) or to deny publication if comments are considered to be inconsistent with the requirements identified above.