BCFC: MP's Survey Results Published
 Shabana Mahmood
MP for Birmingham Ladywood
In July Blues Trust reported on a fans survey being conducted by Shabana Mahmood, MP for Birmingham Ladywood. The results of the survey have been published today and are shown below in a news release from Shabana.
Things have moved on since the beginning of July of course, when the shadow of Laurence Bassini loomed large. But concerns remain about the current ownership of the club and the results reflect that.
Our thanks to all Trust members and other Blues supporters who found time to take part in the survey.
Blues Trust
Survey Results
Shabana Mahmood, MP for Birmingham Ladywood has conducted a snap survey of Birmingham City FC fans to finally give fans a voice. BCFC has been driven to the brink due to shocking financial mismanagement by the far-removed ownership – Birmingham Sports Holdings.
With over £120 million of debt and a crumbling stadium which has been left unfixed for two years now, Blues fans have had enough. A survey conducted by Shabana Mahmood MP, the club's constituency MP, shows that of nearly 1,300 Blues fans, 97% are unhappy with the way the club is being run.
When asked what key issues are concerning them – nearly all respondents referenced delays to stadium repairs and the current lack of accountability for the ownership.
| Reason | Respondents | Percentage |
| --- | --- | --- |
| Delays to stadium repairs | 1199 | 93.8% |
| Levels of debt the club is in | 1096 | 85.7% |
| Poor performance on the pitch | 893 | 69.9% |
| Lack of accountability of ownership | 1224 | 95.8% |
| Potential takeovers of the club | 841 | 65.8% |
"Hidden in the dark, these owners need to understand they're guardians/guests of the club. 147 years of history it isn't just a pop up throw away company."
Blues fans are loud and clear on what the Government should be doing to help fix the wealth of issues at the club. The majority of them lay the blame at the feet of the current ownership and the English Football League for failing to step in:
"We need a regulator of Professional Football. The Premier League and English Football League (EFL) are membership clubs which are not fit for purpose. Their Fit & Proper Person Test is laughable. BCFC has been systematically ruined by unaccountable overseas owners, with no understanding of the historic role of the Club in our community (since 1875)."
"I'd also like the government to be more proactive in regaining control of said clubs, like Birmingham City and ensuring there is a sale to a legitimate owner".
"Sports and football most of all are a part of our nation's culture and history. They help bring joy and fun family days out to normal working class people like myself. Ask any Birmingham fan about their first game and it's all about family and feeling a part of something bigger than yourself. We cannot allow this to be tainted."
The Government announced earlier this year that it will legislate for an independent regulator but then admitted that this won't be until at least 2024.
Commenting on the survey results, Ms Mahmood said: 
"Birmingham City FC has long been described as the beating heart of our community with a heritage that Brummies across the city are proud of.
But, as my constituents have highlighted, for years now Blues fans have been able to do nothing but watch with devastation as their beloved club has been driven to the brink.
I welcome that we have seen off those like Bassini, but now we need to see real progress that the club is turning a corner. We need legislative action and an independent regulator now, not in 2 or 3 years time, when BCFC could have already disappeared.
I will continue pushing the government to move faster so that all clubs are protected from the type of shoddy ownership BCFC has had to endure. We urgently need legislation to stop clubs from going bust and becoming a plaything of the wealthy."
Shabana Mahmood MP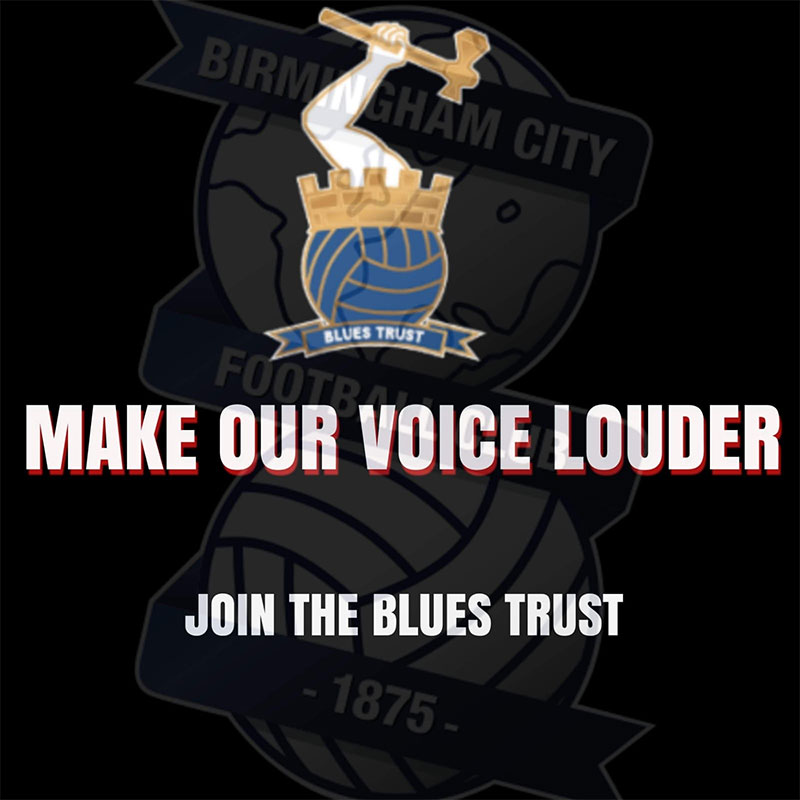 Want to be a full member with voting rights?
We have options for 1 and 2 years at £5 per year.  There is also a 5 year membership for £20 so you get 5 years for the price of 4.  See information and options here.
By making comments:
All we ask is that it relates to the Club that we all love. It can inform, question, challenge, criticise even….but it should not be written to threaten and/or cause personal offence.
By making comments on the above article, you agree to Blues Trust retaining your email address should we need to make contact with you for admin purposes.   Let us know at admin@bluestrust.org if you do not wish us to do this.  We will not give out your email address to any 3rd party sources.
The Trust reserves the right to moderate any comments made (in consultation with the writer) or to deny publication if comments are considered to be inconsistent with the requirements identified above.