BCFC: Rearrangement of Fixtures Causing Frustration
The announcement on 1st November that the dates of 3 more Blues fixtures have been changed, has been met with dismay and even anger amongst some fans. The right of TV companies and the EFL to change the date of matches, sometimes at short notice, now seems to have almost become accepted as one of the 'penalties' fans have to face to support their team. This does not make it right or acceptable.
The Trust is calling for compensation for pre-paid ticket holders (mainly season ticket holders) who cannot go to games on the rearranged date, in the same way that virtually all other sectors of the entertainment industry would do in similar circumstances.
For Blues, the changes mean that 6 out of 9 matches have been moved from their original scheduled date – see items in blue below:
Blues v QPR (Changed Sat Oct 29th to Fri Oct 28th)

Stoke C v Blues Sat Nov 5th
Blues v Swansea C. Tues Nov 8th Nov

Blues v Sunderland (Changed Sat Nov 12th to Fri Nov 11th)

Blackpool v Blues Sat 10th Dec

Blues v Reading (Changed Sat Dec 17th to Friday Dec 16th)

Burnley v Blues (Changed Mon 26th Dec to Tues 27th)

Blues v Hull C. (Changed Thurs 29th Dec to Fri 30th)

Blues v Middlesbrough (Changed Sun 1st Jan to Mon 2nd)
The QPR, Sunderland and Reading home games and the Burnley away game have been selected by Sky as their main match (as is the unchanged Swansea match). In these circumstances, the home club (but not the away club) receives a payment under the agreement between Sky and the EFL.  The Burnley game date change has caused the following 2 games to be pushed back by a day (to give Blues players appropriate recovery time). The Hull and Middlesbrough games are not main Sky matches, so there will be no financial benefit to Blues in moving these.
Some have suggested that the reason that games are being moved is because of the World Cup. While there may have been a clash between the 3rd/4th place World Cup Play-off match and the Blues v Reading fixture, the majority of other Championship matches are still being played on Sat 17th Dec, so this argument is spurious. It is also spurious to blame the World Cup for changes to the 3 matches between Christmas and New Year – there are no more games than in previous years.
So, where does the responsibility lie for the changes? Of course, it comes down to the TV agreement between the EFL and Sky Sports. Although the EFL is talked about as if it is separate from the clubs, it is not. The EFL is the clubs themselves. There is no separate EFL body. The EFL does have a Board who make the decisions on behalf of the clubs – but they are not able to make decisions on their own about TV agreements. This falls to a majority vote (with some provisos) of the clubs themselves.
So, in the end, it is the clubs themselves who have negotiated an agreement which enables Sky to dictate which matches will be televised and when. The agreement lasts until 2024.
Of course, the clubs will say the agreement is of benefit because it gives them greater income. But in making the agreement, what consideration was given to the inconvenience and in some cases financial losses incurred by supporters? Take, as an example, Sunderland fans now having to travel to Birmingham on a Friday evening, possibly having to take a day off work. I don't think Blues fans would be very impressed if it was us that had to make the several hours trek to Sunderland on a Friday evening.
In virtually any other sector of the entertainment industry, if an event such as a music gig is moved, music fans are generally offered a ticket for the new date, or if they are unable to attend, a refund. Why should football be any different?
This is an issue which is bigger than Blues alone. (For example, the FSA reported on 7th October, that with only 2 weeks before the game between Chelsea and Man U. the EPL and Sky hadn't agreed the kick-off time. Chelsea Supporters Trust said: "This highly-anticipated fixture is slowly becoming a nightmare for many."
Blues Trust believes that the Football Supporters Association needs to strengthen its campaign concerning changes of dates and times of games, and we are working with FSA to express this view to the EFL, with special emphasis on the situation at Blues. We will propose to them that they should lobby for some form of compensation agreement for those who lose out financially.
We will also be contacting the club to establish how they will recompense supporters for matches which they are no longer able to attend because of a date change, but have already paid for through their season tickets or other method of pre-purchase.
Blues Trust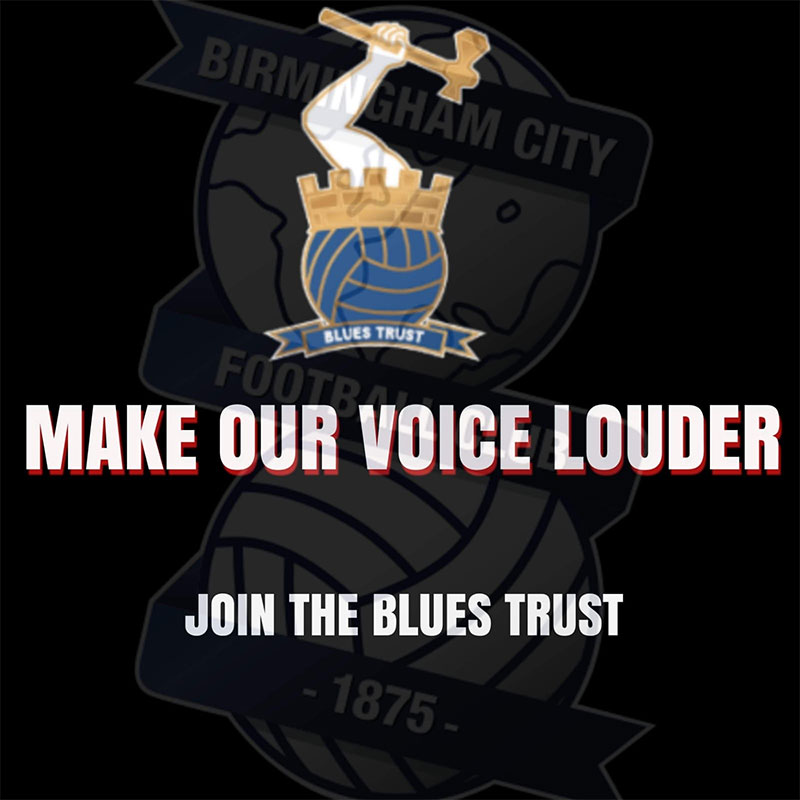 Want to be a full member with voting rights?
We have options for 1 and 2 years at £5 per year.  There is also a 5 year membership for £20 so you get 5 years for the price of 4.  See information and options here.
By making comments:
All we ask is that it relates to the Club that we all love. It can inform, question, challenge, criticise even….but it should not be written to threaten and/or cause personal offence.
By making comments on the above article, you agree to Blues Trust retaining your email address should we need to make contact with you for admin purposes.   Let us know at admin@bluestrust.org if you do not wish us to do this.  We will not give out your email address to any 3rd party sources.
The Trust reserves the right to moderate any comments made (in consultation with the writer) or to deny publication if comments are considered to be inconsistent with the requirements identified above.