Fan Led Review: Parliamentary Debate
It has been announced that a Parliamentary debate regarding the future of football governance will be held next week. The debate has been secured by Shabana Mahmood, MP for Ladywood. A news release from Shabana is shown below.
Blues Trust congratulates and thanks Shabana for her work in supporting Blues fans to highlight the issues we are facing with our club. The Trust has been working with Shabana and her team to bring the plight of Blues to the authorities' attention, and push the recommendations set out in the Fan Led Review. It is one of those behind-the-scenes activities that is continuing to move things forward. KRO Shabana.
News Release

It's official: I've secured a debate in parliament regarding the Governance and financial sustainability of football clubs.  It takes place on Monday 7th November at 10pm. You'll be able watch it live from the Commons Chamber using this link.

In the debate, be I'll raising the plight of Blues fans who have watched their beloved club driven to the brink.

I'll be pressing the Government to re-commit to implementing the recommendations of the Fan Led Review and on the need for an Independent Regulator to be established as quickly as possible.

I want to thank Blues fans who have been with me on this journey and have written in support of my campaigning.  It's essential that we secure the future of Birmingham City Football Club in the heart of our city for future generations.

Yours sincerely

Shabana Mahmood, MP for Ladywood

Blues Trust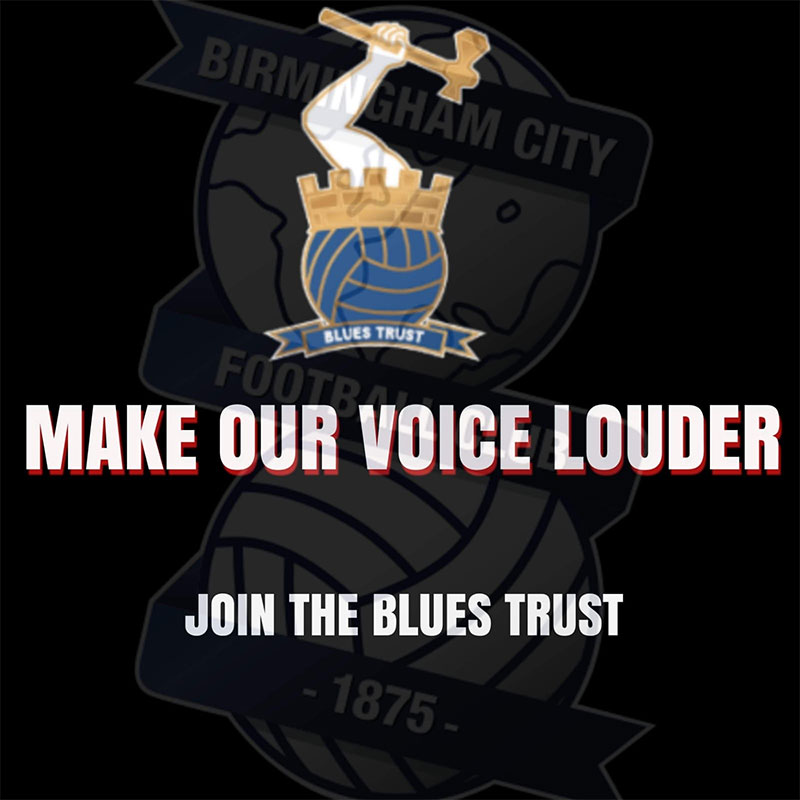 Want to be a full member with voting rights?
We have options for 1 and 2 years at £5 per year.  There is also a 5 year membership for £20 so you get 5 years for the price of 4.  See information and options here.
By making comments:
All we ask is that it relates to the Club that we all love. It can inform, question, challenge, criticise even….but it should not be written to threaten and/or cause personal offence.
By making comments on the above article, you agree to Blues Trust retaining your email address should we need to make contact with you for admin purposes.   Let us know at admin@bluestrust.org if you do not wish us to do this.  We will not give out your email address to any 3rd party sources.
The Trust reserves the right to moderate any comments made (in consultation with the writer) or to deny publication if comments are considered to be inconsistent with the requirements identified above.