Welcome To Blues New Arrival – Kevin Long
Monday saw another disappointing home defeat, this time to Middlesbrough.  The performance was far from encouraging too, and a third successive loss meant it was a miserable festive period for the club and its supporters.  It's perhaps not surprising that the recent run of form has prompted calls from many supporters for more and immediate investment in the squad. 
To be fair to John Eustace and his players, it has to be acknowledged that 3 games in 6 days is a big ask.  And it can't be overlooked that injuries are once again beginning to take their toll.
But with the January transfer window now upon us, it is useful to remind ourselves of the current squad depth of the first team.  Our friends at Blues Breakdown have produced the following analysis, which we are using with their kind permission.  It makes interesting reading.
As is to be expected at this point in the season, lots of rumours are already circulating about possible incoming and outgoing transfers, the recall of loan players and so on.  In fact, things have already started to materialise with the acquisition of Kevin Long which was announced on Thursday evening.  As Blues supporters we are all pretty sure though that, unfortunately, there won't be much cash for the club to splash before the month ends.  We know it is likely to be another window of frugal activity.
But that shouldn't stop us expressing our opinions about what is required to improve the playing staff, so we wanted to ask you for your views.  What positions do you feel need to be strengthened, who would you like to see coming in and which players should be released? If you have any thoughts please share them with us.  Try and be realistic though. With the best will in the world, Jude is not coming back!
Blues Trust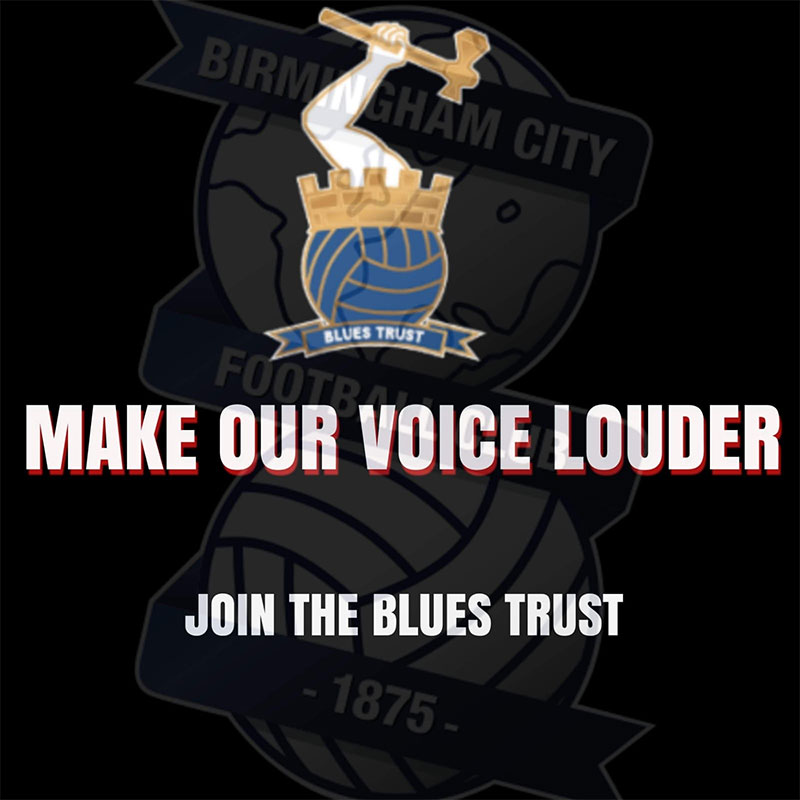 Want to be a full member with voting rights?
We have options for 1 and 2 years at £5 per year.  There is also a 5 year membership for £20 so you get 5 years for the price of 4.  See information and options here.
By making comments:
All we ask is that it relates to the Club that we all love. It can inform, question, challenge, criticise even….but it should not be written to threaten and/or cause personal offence.
By making comments on the above article, you agree to Blues Trust retaining your email address should we need to make contact with you for admin purposes.   Let us know at admin@bluestrust.org if you do not wish us to do this.  We will not give out your email address to any 3rd party sources.
The Trust reserves the right to moderate any comments made (in consultation with the writer) or to deny publication if comments are considered to be inconsistent with the requirements identified above.