BCFC: Supporter Groups Meet
Blues Trust hosted a meeting of representatives from several Blues supporter groups on Thursday evening, 19 January. The meeting had been called to discuss ongoing concerns about the ownership of the club and its future. And also because the club itself is reluctant to engage with supporters on these important matters.
The meeting was held via zoom conference call and was very well attended. A lively discussion took place with valuable contributions from all present. The notes of the meeting are here
Unsurprisingly, the discussion confirmed the deep frustration felt by all at the lack of interest and investment from the owners. And real concern that the club is unlikely to progress in any meaningful way without a change of direction by those in control. However, there was consensus that supporters should not throw in the towel and simply accept the ongoing decline but, instead, should continue to make their feelings known and challenge for change and improvement. Significantly, there was also broad recognition that only by the different groups working together will there be any chance at all of achieving some degree of success.
It was agreed that a new campaign should be organised as soon as possible to carry the fight to the owners. It was recognised that there is unlikely to be any quick fix though, and that a long-term effort was likely.
It was agreed that work would be undertaken quickly to organise and shape a campaign with input from all sources. The campaign is expected to take many forms but with a common aim. Those unable to attend the meeting are being contacted separately to seek their agreement and support, with a view to mobilising as many Blues fans as possible.
Further information will follow in due course. An announcement about the campaign, including confirmation about its purpose, objectives and opportunities for all supporters to participate if they so wish, will be made shortly.
Blues Trust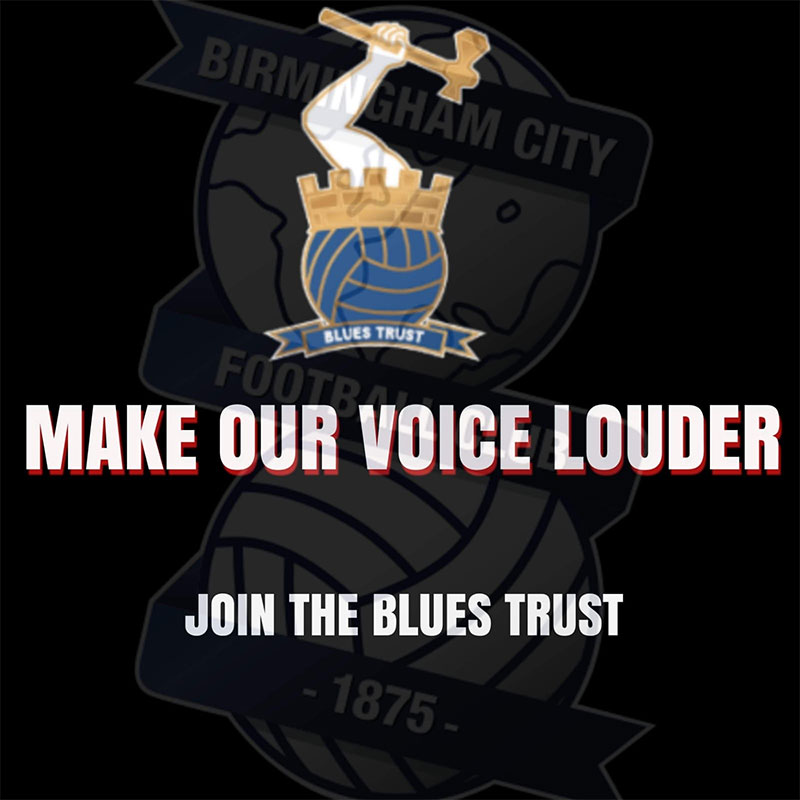 Want to be a full member with voting rights?
We have options for 1 and 2 years at £5 per year.  There is also a 5 year membership for £20 so you get 5 years for the price of 4.  See information and options here.
By making comments:
All we ask is that it relates to the Club that we all love. It can inform, question, challenge, criticise even….but it should not be written to threaten and/or cause personal offence.
By making comments on the above article, you agree to Blues Trust retaining your email address should we need to make contact with you for admin purposes.   Let us know at admin@bluestrust.org if you do not wish us to do this.  We will not give out your email address to any 3rd party sources.
The Trust reserves the right to moderate any comments made (in consultation with the writer) or to deny publication if comments are considered to be inconsistent with the requirements identified above.