Image Courtesy of Sky Sports
Blues Trust was saddened to learn this afternoon of the death of David Gold, formerly a chairman of Birmingham City FC. Alongside David Sullivan, David Gold bought Blues in 1993, taking the club out of administration and putting it on a sound financial footing.
During their tenure Gold and Sullivan brought many successes and good times to Blues. These included the Second Division (as League 1 was known then) Championship, the Auto-Windscreens Shield, several play-off campaigns, a League Cup final in Cardiff and a return to the top flight of English football after a gap of 16 years. This was followed by two more promotions back to the Premier League. They also laid the foundations for the Carling Cup win in 2011, something which is often overlooked, and oversaw the redevelopment of much of St Andrew's stadium.
For those who met him during his time at the club, David Gold was approachable, open and honest. He was prepared to put himself in the firing line with supporters of the club, be that meeting fans in person or answering questions on local radio phone-ins. Things that do not happen now. His tenure at Blues was also a byword for stability, with only five managers in the space of 16 years and plenty of good football and excitement along the way.
There was, of course, some controversy over the sale of Blues in 2009 and what subsequently happened. But David Gold and David Sullivan undoubtedly left the club in a much better state than when they took over, and gave Blues fans many fond memories over their years at the club.
Thank you David. Rest in Peace.
Blues Trust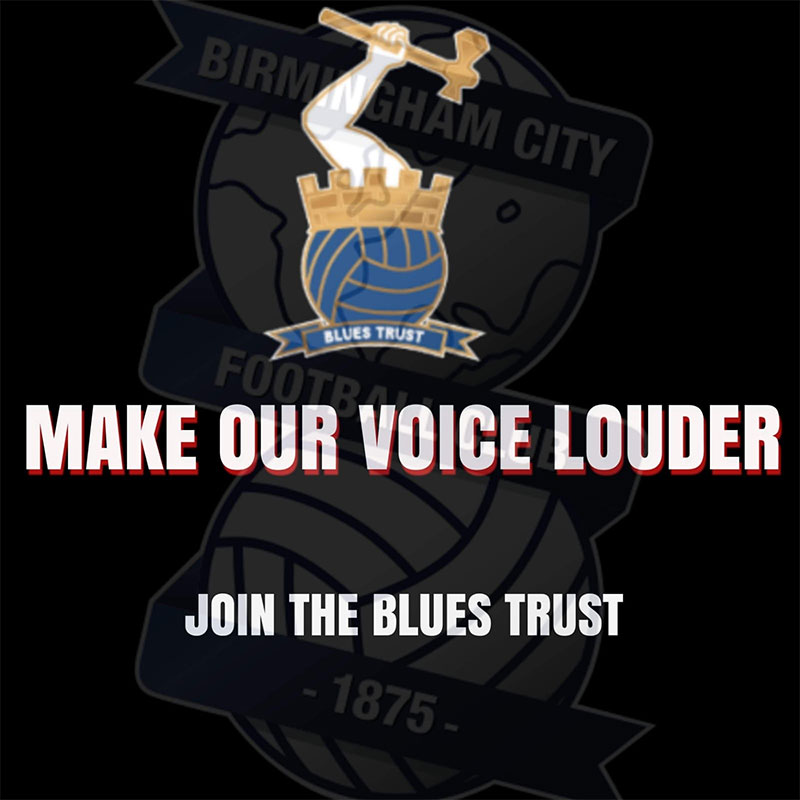 Want to be a full member with voting rights?
We have options for 1 and 2 years at £5 per year.  There is also a 5 year membership for £20 so you get 5 years for the price of 4.  See information and options here.
By making comments:
All we ask is that it relates to the Club that we all love. It can inform, question, challenge, criticise even….but it should not be written to threaten and/or cause personal offence.
By making comments on the above article, you agree to Blues Trust retaining your email address should we need to make contact with you for admin purposes.   Let us know at admin@bluestrust.org if you do not wish us to do this.  We will not give out your email address to any 3rd party sources.
The Trust reserves the right to moderate any comments made (in consultation with the writer) or to deny publication if comments are considered to be inconsistent with the requirements identified above.