The following article has been written by one of our Trust members.  They are the opinions of that person and not necessarily those of Blues Trust.  Would you like to contribute a discussion point of your own about Birmingham City Football Club?  If so, we would be delighted to hear from you.
Just one point from the Wigan game edged us a little nearer to the forty eight survival target. That's the reality in the aftermath of another very frustrating afternoon. Taking the lead, losing it, missing a penalty and hanging on for the draw is how best to describe the game. Enduring a paltry possession rate is irrelevant as goals win games, and we didn't build on our early advantage.
This season feels like a never ending, tortuous marathon to get over the safety line at snails pace. We make every allowance be it injuries, a small squad or the poor atmosphere around St. Andrew's. But the unwelcome word "reality" is always the reason. We are a lower half Championship outfit where league positions don't lie.
Physicality in this second tier is sadly the main commodity over the skill factor, with the stronger able to bully themselves along. My view obviously. Taking a lead and holding on to it requires strength, something which Blues are clearly lacking at the moment. Adding to a lead separates the more rounded sides in this league.
Rotherham next up will again be challenging, with little expected in terms of home domination and being on the front foot. A solid defence and meagre opportunities for our opponents has to be the formula if something is to be achieved from the game.
John Eustace is again coming under pressure for this awful run of winless games, with supporters appearing divided as to whether the club's hierarchy should stick or twist with him. My firm belief is that we should back him, at least until the end of the season. Recent campaigns have seen the regular chopping and changing of managers which, luckily, have worked in terms of securing Championship status. This time around however I fear the worst should the axe fall. In my book John Eustace is as good as they come for a Birmingham City in its current state
Players on the pitch decide the outcome of games, and surely we have enough experienced professionals capable of carrying the club over the line?. Only a few seasons ago whilst following and participating in Tom Ross's radio phone-in show, he always asked the question "well how about the players? They need to take responsibility". How true that is. Players get managers sacked and still get paid regardless. Scott Hogan's missed penalty wasn't the fault of the manager but the player.
We all have differing views, and rightly so, but for some deep down gut feeling my advice for the club is not to replace John Eustace. Eleven games remaining, nine further points needed and hopefully achieved at a quicker pace. Against Rotherham we need good decision makers on the pitch. Simply that.
Mitchell Bray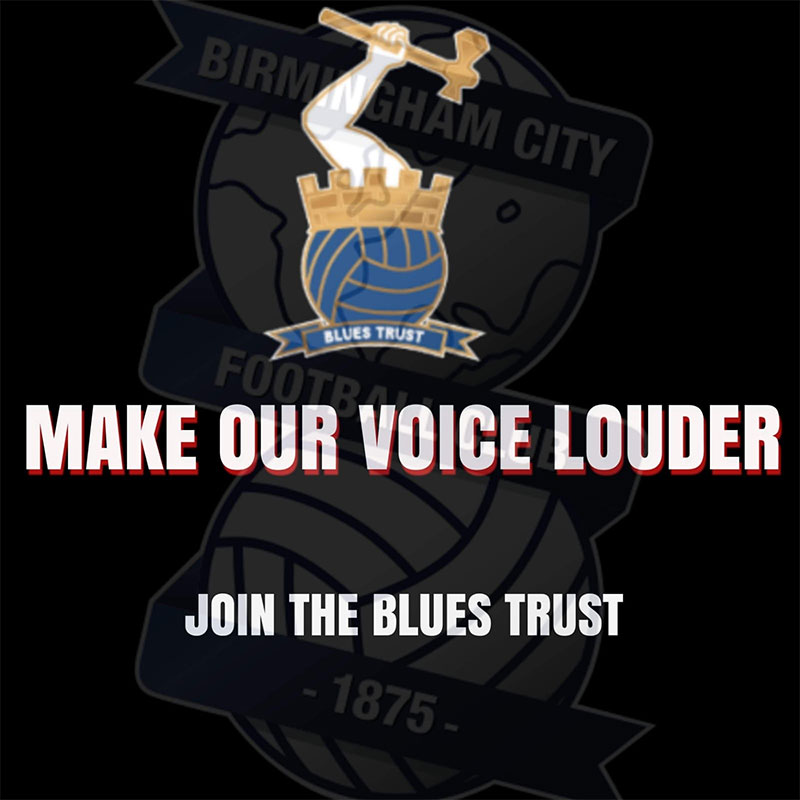 Want to be a full member with voting rights?
We have options for 1 and 2 years at £5 per year.  There is also a 5 year membership for £20 so you get 5 years for the price of 4.  See information and options here.
By making comments:
All we ask is that it relates to the Club that we all love. It can inform, question, challenge, criticise even….but it should not be written to threaten and/or cause personal offence.
By making comments on the above article, you agree to Blues Trust retaining your email address should we need to make contact with you for admin purposes.   Let us know at admin@bluestrust.org if you do not wish us to do this.  We will not give out your email address to any 3rd party sources.
The Trust reserves the right to moderate any comments made (in consultation with the writer) or to deny publication if comments are considered to be inconsistent with the requirements identified above.