The following article has been written by one of our Trust members.  They are the opinions of that person and not necessarily those of Blues Trust.  Would you like to contribute a discussion point of your own about Birmingham City Football Club?  If so, we would be delighted to hear from you.
With Sheffield United being our final Championship game of the season, all Blues supporters will surely be hoping that next season will be different.  Better times ahead is what we want, with stability and a proper pathway for progress.  Both in ownership terms and on field success.
Nothing exciting about any of the above of course.  But that's just about where we currently sit, with new ownership being the touch paper to get everyone on board and believing.  What strikes me this time around with regard to a change of fortune is the urgent need to keep optimism alive.  Seventeenth spot in the annual reckoning is pretty dour in any league.  But to become accustomed to this is absolutely soul destroying when supporting Blues is far more than just a hobby.
Sheffield United arrive at St. Andrew's on Monday afternoon, already promoted so well done them.  Like champions Burnley, United have enjoyed the benefit of a parachute payment following their relegation from the top flight two seasons ago in 2021.  But the four teams currently occupying the play off places…Luton Town, Middlesbrough, Coventry City and Millwall…have not.  Their success reflects what can be achieved under tight financial conditions.  Perhaps next season, under new ownership, our club could perform in a similar way.
Better times ahead may sound trite, but in reality the new 2023/24 season must deliver on many levels.  It simply has to. In the meantime the summer months are there to be enjoyed by all with, I very much hope, a fair dollop of sunshine hovering over St. Andrew.  A change of fortune is desperately wanted and, in my view, there is real belief that it just might happen.  And soon.
Enjoy the close season.
Mitchell Bray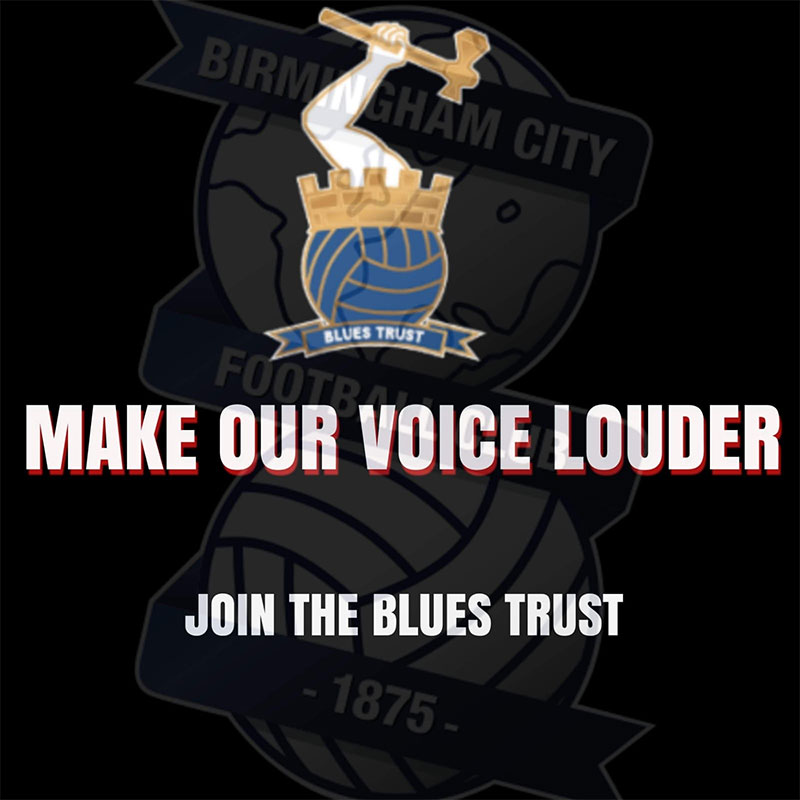 Want to be a full member with voting rights?
We have options for 1 and 2 years at £5 per year.  There is also a 5 year membership for £20 so you get 5 years for the price of 4.  See information and options here.
By making comments:
All we ask is that it relates to the Club that we all love. It can inform, question, challenge, criticise even….but it should not be written to threaten and/or cause personal offence.
By making comments on the above article, you agree to Blues Trust retaining your email address should we need to make contact with you for admin purposes.   Let us know at admin@bluestrust.org if you do not wish us to do this.  We will not give out your email address to any 3rd party sources.
The Trust reserves the right to moderate any comments made (in consultation with the writer) or to deny publication if comments are considered to be inconsistent with the requirements identified above.