As was likely the case for most Blues supporters, Blues Trust was delighted to see yesterday's announcement that the EFL has given its approval for Shelby Companies Limited to acquire 45% of the club, including full ownership of St. Andrew's stadium. A statement made by the club's owners, Birmingham Sports Holdings Ltd, confirmed that the game's regulators had given the deal, first revealed with a public announcement on 7 May, the necessary green light to proceed.
All that remains now for the acquisition to be finalised is compliance with the strict requirements of the Hong Kong Stock Exchange followed by shareholder approval at BSHL. Hopefully, both of these are formalities and happen very soon.
So after many years of frustration and disappointment, during which Blues fans have campaigned long and hard for ownership change to drive improvement in the fortunes of the club, at last it now appears that a new beginning is within reach. And whilst it is true that the current owners will continue to remain on the scene at St. Andrew's, a 45% stake, ownership of St. Andrew's and operational control of day to day affairs is very significant. With, of course, the prospect of a full takeover further down the line.
Although there is understandable excitement in the air that better times are now coming, Blues Trust has made the point before, and does so again here, that the proof of the pudding will be in the eating as it always is. Time alone will determine how significant and successful the introduction of Shelby, a subsidiary of Knighthead Capital Management run by American financier Tom Wagner, will be.
But the Trust's view is that the professional conduct of Tom Wagner and his team has, thus far, been exemplary and so gives real cause for hope and optimism. The facts that:
negotiations have been conducted in private for a considerable period of time, and without leaks or public posturing;
the accessibility of Tom Wagner and his open engagement with fans at the final match of last season against Sheffield United on the day the announcement of an agreement was made;
the clear public statement of intent from Mr Wagner, made the same day, which set out goals and objectives for the new investors including, importantly from the Trust's perspective, an absolute commitment to full engagement with supporters in keeping with the principles of the recent Fan Led Review, and;
there's been full recognition of, and respect for, the EFL rules by Knighthead with compliance at every turn.
All of these actions, and others, have given Blues Trust confidence that this time around the club will be getting serious involvement from successful business people who know what they are doing, appear to share the same aspirations as supporters and want to breathe new life into a club that has been stagnating for far too long.
The new football season is now less than 8 weeks away. The time that remains represents a crucial period for the club in terms of its preparations for the new season, not least given the need to seriously strengthen the playing squad and make progress with the long overdue stand repairs. So yesterday's announcement was both welcome and important. Let us hope that all outstanding matters can be resolved quickly, and that Tom Wagner and his team can very soon begin to exert their influence for the good of Birmingham City FC. Blues Trust wishes them well.
Blues Trust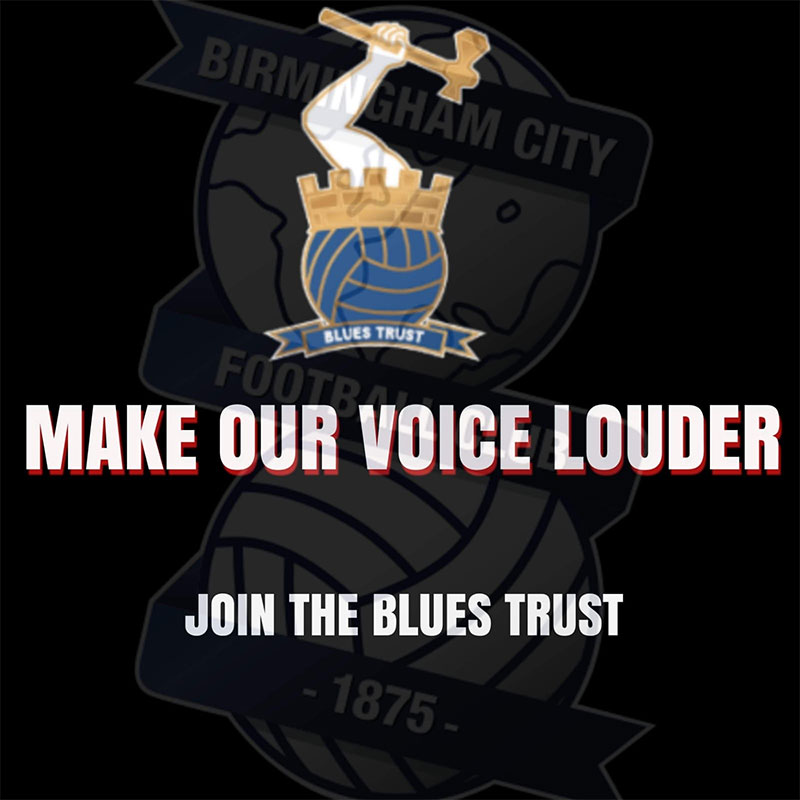 Want to be a full member with voting rights?
We have options for 1 and 2 years at £5 per year.  There is also a 5 year membership for £20 so you get 5 years for the price of 4.  See information and options here.
By making comments:
All we ask is that it relates to the Club that we all love. It can inform, question, challenge, criticise even….but it should not be written to threaten and/or cause personal offence.
By making comments on the above article, you agree to Blues Trust retaining your email address should we need to make contact with you for admin purposes.   Let us know at admin@bluestrust.org if you do not wish us to do this.  We will not give out your email address to any 3rd party sources.
The Trust reserves the right to moderate any comments made (in consultation with the writer) or to deny publication if comments are considered to be inconsistent with the requirements identified above.