Some new playing rules will be in place when Blues kick off the new season on Saturday. The EFL has announced that changes are being introduced which are designed to create "fairer conditions" for all teams.
There are three changes in particular which will focus on:
a more precise way to calculate added-on time during matches;
how injured players are treated;
the way players are punished after showing dissent or conceding penalty kicks.
1. Playing Time
The EFL has said it wants to ensure there is a more accurate calculation of additional time, together with an improvement in the amount of time the ball is in-play. Statistics show how little the ball has been in play in England, with an average of just 52 minutes in the Championship last season.
As a result, referees are being told to add on the exact time taken for goals and celebrations, substitutions, injuries, penalties and dismissals. Previously, a set nominal amount of time was used to calculate the time added on. This is likely to mean that games will become considerably longer than fans have been used to.
In addition, a multi-ball system will also be used to help keep stoppages to a minimum. This permits a match to resume immediately with another ball when the original one goes out of play. The EFL says that research has confirmed that this measure does indeed increase the amount of time the ball is in-play.
Match officials are also being told to take "a more robust approach" when dealing with time-wasting and dissent. So, fans can now expect to see a yellow card being shown to anyone delaying the restart of play or not retreating the necessary distance at a free-kick.
As far as other forms of dissent are concerned, players will be much more likely to be shown a yellow card because the threshold has been reduced. For example, whenever more than one player approaches the referee to challenge a decision, at least one of those players, and potentially more, will automatically be shown a yellow card. Any player that runs from a distance to approach the match officials can expect to be booked.
Finally, the EFL has also shown its commitment to keeping the game flowing by maintaining a "high threshold for penalising contact" next season. Match officials will now only penalise a player when contact has a detrimental impact on an opponent. This is an attempt to allow the game to flow better and reduce stoppages, so it is likely that there will be fewer free kicks awarded for incidents which last season would probably have been penalised for being overly physical. Challenges which are considered "careless", "reckless" or which "endanger the safety" of an opponent will still be punished appropriately though.
2.  Injured Players
Injured players will, as a general rule, now be required to leave the field of play to be assessed. Exceptions to that ruling include injured goalkeepers, players from the same team who have collided and severe injury. Once play has restarted, the treated players will have to wait at least 30 seconds before being allowed back on.
3.  Penalty Kick Punishments
Following guidance from the game's lawmakers, the International Football Association Board, the EFL has confirmed changes to the issuing of yellow and red cards around penalty kicks.
From this season, only a yellow card will be shown for conceding a penalty by denying an opponent a clear goal-scoring opportunity as long as the player committing the offence is making a genuine attempt to play the ball or is challenging for it. A red card will be given in any other circumstance, such as holding, pushing or handball.
No doubt match officials will again continue to attract close attention and generate robust comments from most of us at various times this season. But keep these changes in mind before letting go with both barrels! They don't make the rules, they just have the challenging job of applying them. Fairly. And consistently…..
Blues Trust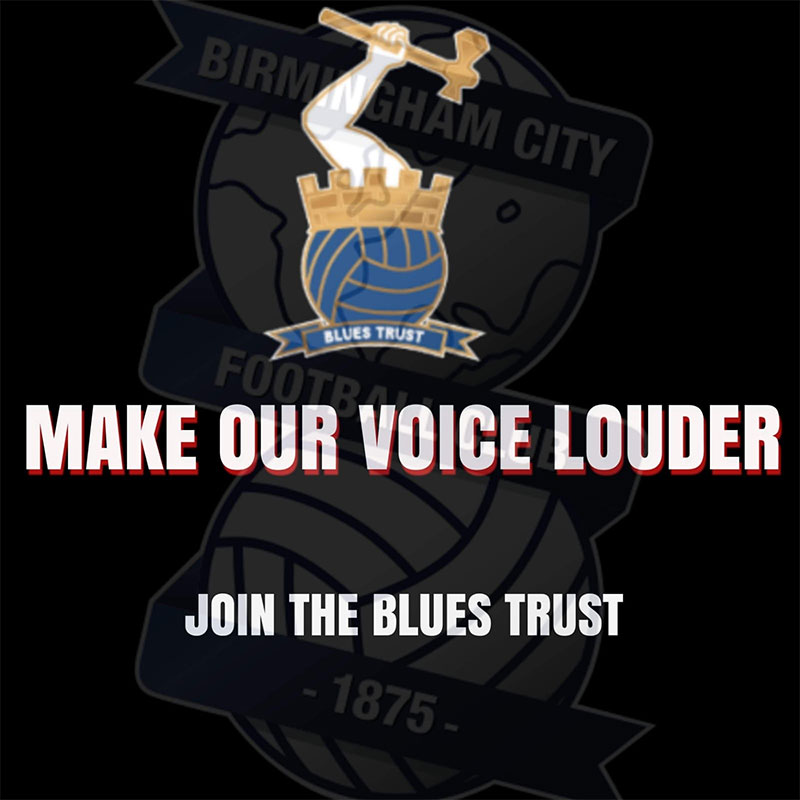 Want to be a full member with voting rights?
We have options for 1 and 2 years at £5 per year.  There is also a 5 year membership for £20 so you get 5 years for the price of 4.  See information and options here.
By making comments:
All we ask is that it relates to the Club that we all love. It can inform, question, challenge, criticise even….but it should not be written to threaten and/or cause personal offence.
By making comments on the above article, you agree to Blues Trust retaining your email address should we need to make contact with you for admin purposes.   Let us know at admin@bluestrust.org if you do not wish us to do this.  We will not give out your email address to any 3rd party sources.
The Trust reserves the right to moderate any comments made (in consultation with the writer) or to deny publication if comments are considered to be inconsistent with the requirements identified above.