How Important is Possession?
The recent match against Millwall was the first league game this season where Blues had the majority of possession in the game. Millwall had also had less than 50% possession in their previous four league games, so arguably something had to give.
Nevertheless, as the team starts to transition to a new era, will we see Blues changing their style and keeping the ball more? And, if so, is this likely to yield more points?
Looking at last season in the Championship and plotting average possession against points gained, the graph below shows that, generally speaking, the greater the possession equals the greater the points gained. There is some variability of course but, for example, no team with less than 45% average possession, including Blues shown in red, got more than 53 points. On the other hand, all of the teams with 55% or more average possession gained 62 points or more.
Looking more broadly over the past five Championship seasons emphasises this relationship still further.
| | |
| --- | --- |
| Category | Proportion of teams that averaged 50% or more possession over the Season |
| Automatically promoted teams | 100% |
| Teams promoted through the playoff | 80% |
| Teams in the playoffs | 70% |
| Teams who finished in bottom 3 (before any points deductions) | 13% |
Out of the ten teams that were promoted automatically over that five-year period, all of them averaged 50% or more possession across the season. The last team that got promoted with less than 50% possession was Cardiff City in 2017/18.
Of the five teams that got promoted through the playoffs during this time, four of them averaged 50% or more possession with the exception being Luton Town last season who only had just over 45% possession on average. That shows that it is possible to be successful with less than 50% possession but, clearly, the vast majority of successful clubs kept the ball more than that.
Of the teams that got into the playoffs in the last five years, 14 of the 20 (70%) had 50% or more possession and of the 6 that had less than that only Luton Town were ultimately successful.
Looking at the other end of the table, the picture is slightly clouded by teams having points deductions. If we ignore those and just look at the teams that would have finished in the bottom three without any deductions, we can see that just 13% of those teams had possession of 50% or more. So, the vast majority had less than average 50% possession.
Interestingly, during this five-year period Blues consistently had less than 50% possession each season which is perhaps indicative as to why the club  struggled.
So, whilst having more possession is not a guarantee of success, as evidenced by Luton Town and indeed Leicester City when they won the Premier League, generally more possession seems to increase the likelihood of success. Although, of course, it's always crucial as to what you do with the ball when you have it.
As the new squad begins to settle in, with better players than we have had for some time, hopefully Blues will be able to show more control of the ball and start nudging up that possession statistic. If they do, and of course use the ball more effectively when they have it, then there is every reason to believe that the team might be able to build on the strong start to the season that has already been made.
Blues Trust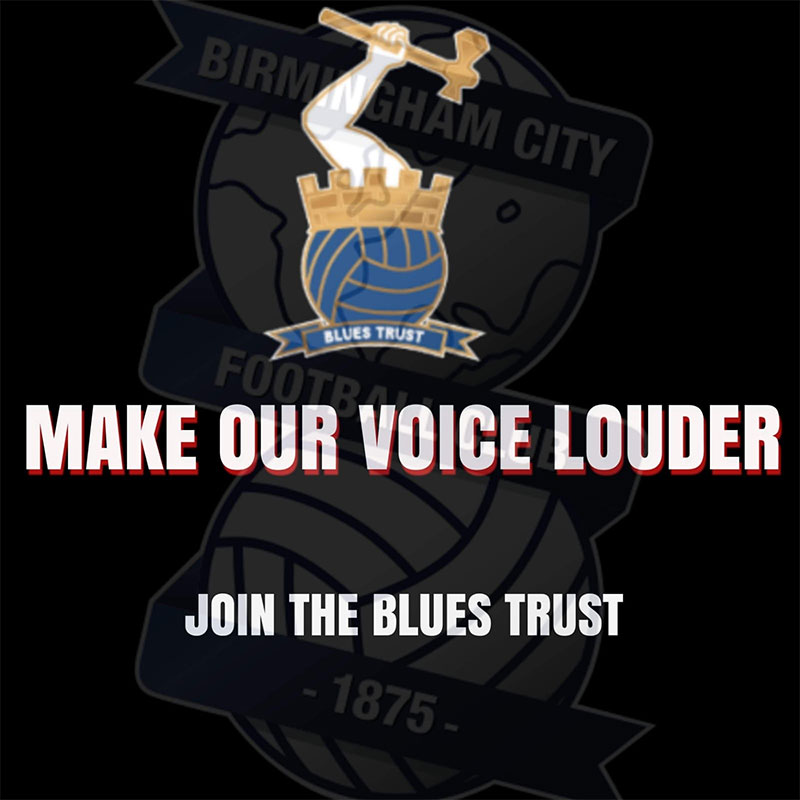 Want to be a full member with voting rights?
We have options for 1 and 2 years at £5 per year.  There is also a 5 year membership for £20 so you get 5 years for the price of 4.  See information and options here.
By making comments:
All we ask is that it relates to the Club that we all love. It can inform, question, challenge, criticise even….but it should not be written to threaten and/or cause personal offence.
By making comments on the above article, you agree to Blues Trust retaining your email address should we need to make contact with you for admin purposes.   Let us know at admin@bluestrust.org if you do not wish us to do this.  We will not give out your email address to any 3rd party sources.
The Trust reserves the right to moderate any comments made (in consultation with the writer) or to deny publication if comments are considered to be inconsistent with the requirements identified above.