On Thursday the Government gave an update on its plans for the reform of football. This follows on from the publication of its football governance white paper in February, which itself was informed by the Fan Led Review of football that was undertaken in 2021.
The update in full is below.
https://www.gov.uk/government/news/government-outlines-preferred-structure-of-new-independent-football-regulator
The Trust's view is that, in general terms, things are shaping up positively. A key indicator is that the Government has resisted pressure from some Premier League clubs and is still committed to setting up a regulator and is 'minded' to ensure that it is independent from any existing body.
Additionally, the Government is also intending for the regulator to have backstop powers on financial redistribution within football if the EPL and EFL cannot agree amongst themselves. This is something the Trust has been pushing for strongly.
A key next step to look out for is that the measures outlined are included in the King's Speech in November, which will set out the Government's programme of upcoming legislation in the following 12 months.
The Trust has been active in pushing for reform since the commencement of the FLR, ensuring the views of our members and other Blues supporters have been heard. We worked closely with the Football Supporters Association as part of the latest detailed consultation exercise mentioned in the update and also consulted with Shabana Mahmood, MP for Birmingham Ladywood, to inform her response to the white paper.
We await further developments.
Blues Trust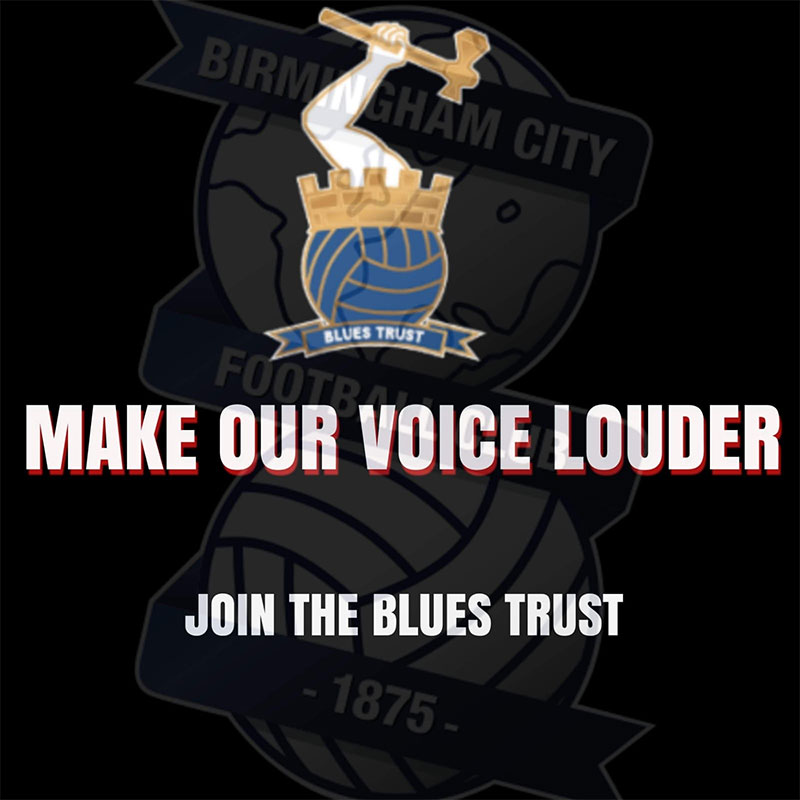 Want to be a full member with voting rights?
We have options for 1 and 2 years at £5 per year.  There is also a 5 year membership for £20 so you get 5 years for the price of 4.  See information and options here.
By making comments:
All we ask is that it relates to the Club that we all love. It can inform, question, challenge, criticise even….but it should not be written to threaten and/or cause personal offence.
By making comments on the above article, you agree to Blues Trust retaining your email address should we need to make contact with you for admin purposes.   Let us know at admin@bluestrust.org if you do not wish us to do this.  We will not give out your email address to any 3rd party sources.
The Trust reserves the right to moderate any comments made (in consultation with the writer) or to deny publication if comments are considered to be inconsistent with the requirements identified above.