An Evening With Garry Cook
It is only three short months since Tom Wagner and his associates took over operational control for the running of Birmingham City. And, as all Blues supporters will surely testify, the changes that have taken place in the time that has elapsed since have been transformational.
A key person involved in driving change and improvement at the Club is, of course, Garry Cook, CEO.
Blues Trust is delighted to announce that Garry has now kindly agreed to be our guest for an informal Q&A meeting with Trust members.
The meeting is being held online at 7.00pm on Thursday 23 November via Zoom, and an invitation to attend and ask questions is being sent to all Trust members. Members are being sent their individual invitations by email.
This is a member only event. However, if you are not already a member but would like to attend, please consider joining so that you can do so. The Trust would be delighted to have you on board. You can join in the membership section below.
All new members will be sent an invitation to the event once their application to join has been processed.
Blues Trust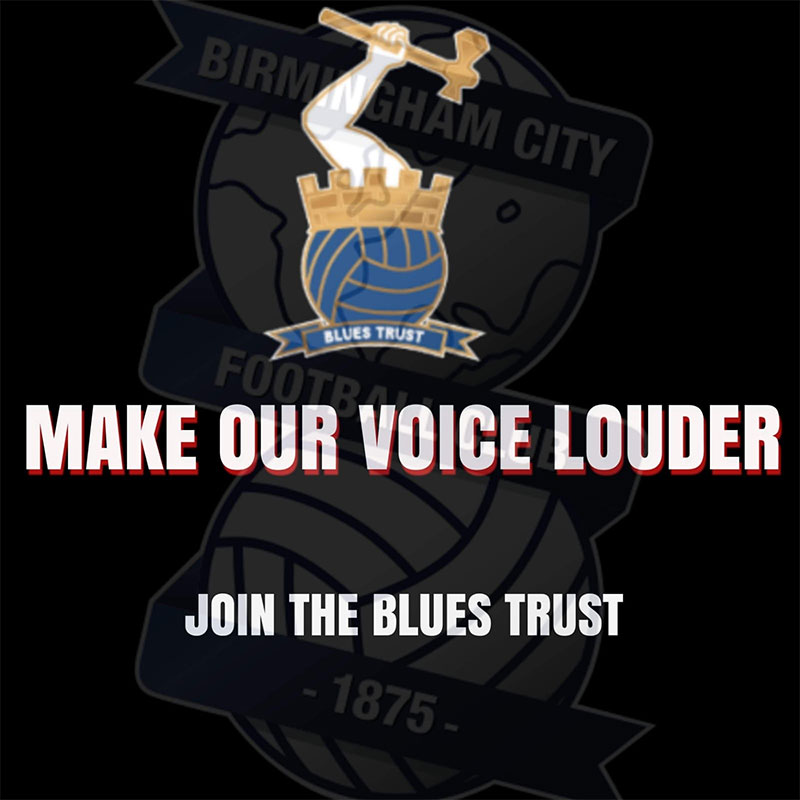 Want to be a full member with voting rights?
We have options for 1 and 2 years at £5 per year.  There is also a 5 year membership for £20 so you get 5 years for the price of 4.  See information and options here.
Have you visited our shop?
To raise funds for Blues Trust, we have for sale :
Blues Trust Pin-badges.
Old Football Programmes that have been donated.
Gift memberships in Blues Trust that you can buy for family or friends.
By making comments:
All we ask is that it relates to the Club that we all love. It can inform, question, challenge, criticise even….but it should not be written to threaten and/or cause personal offence.
By making comments on the above article, you agree to Blues Trust retaining your email address should we need to make contact with you for admin purposes.   Let us know at admin@bluestrust.org if you do not wish us to do this.  We will not give out your email address to any 3rd party sources.
The Trust reserves the right to moderate any comments made (in consultation with the writer) or to deny publication if comments are considered to be inconsistent with the requirements identified above.