The King Is Dead, Long Live ….
Welcome Wayne Rooney and co!
As was widely expected, Blues today announced the appointment of Wayne Rooney as first team manager. He has agreed terms on a three and a half year contract, and will be assisted by Ashley Cole, John O'Shea, Carl Robinson and Pete Shuttleworth. Maik Taylor will remain at the club as goalkeeping coach.
Rooney has previously managed clubs who were in difficulties. Derby County, as a football club, was a financial basket case when he was in charge. And D.C. United in Washington, USA, was one of the least well funded Major League Soccer teams. So it is a bit difficult to assess his potential as a manager given his work so far.
What is clear is that reports from several sources indicate that he was very popular and well respected in the dressing room at both clubs. He is also joining a club who are clearly on the up, now have a stable boardroom and with real ambition to progress. It is a big opportunity for him.
Both Cole and O'Shea are currently international coaches, with Cole assisting with England Under 21's and O'Shea being assistant manager with the Republic of Ireland. Like Rooney, both were also outstanding and highly experienced international footballers each with over 100 caps for their countries. Shuttleworth has worked with Rooney at both Derby County and D.C.United, and was previously at Blues for five years leading the analysis department. Robinson was an assistant to Rooney at D.C. United.
The coaching team would therefore seem to have a wealth of playing experience, some local knowledge and plenty of potential. They also come with international renown and the ability to get the club more noticed and, potentially at least, make it more attractive as a destination for other players.
What are the expectations of the new coaching team? Despite the fact that Blues are currently sixth in the Championship, the table is still fairly embryonic with only 5 points covering 3rd to 15th positions. Indeed, Blues were 12th only two games ago.
It would be ludicrous to suppose that success this season is a position of sixth or higher. Instead, the new hierarchy at St. Andrew's have constantly emphasised that the goal is not overnight success but building something that leads to long term sustainable achievement. Based on what the club has been saying over the last few days it would appear that we can perhaps expect an improved playing style, with the team being on the front foot more away from home, and increasing confidence that the team is growing into something that can start to meaningfully challenge for promotion in the future.
This will, almost certainly, take time. In the Trust's view it is therefore important that both the club and Blues supporters get behind the manager from the off, and give the new coaching regime time to build the team as they see fit. The Trust wishes them well.
Today's announcement from the club can be read in full here
Welcome Wayne and co!
Blues Trust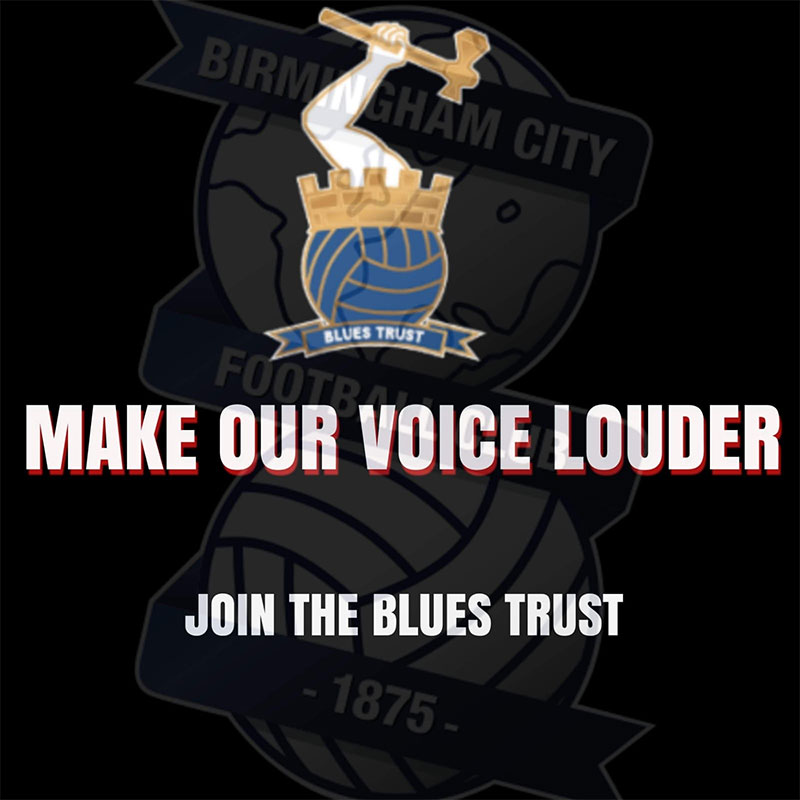 Want to be a full member with voting rights?
We have options for 1 and 2 years at £5 per year.  There is also a 5 year membership for £20 so you get 5 years for the price of 4.  See information and options here.
Have you visited our shop?
To raise funds for Blues Trust, we have for sale :
Blues Trust Pin-badges.
Old Football Programmes that have been donated.
Gift memberships in Blues Trust that you can buy for family or friends.
By making comments:
All we ask is that it relates to the Club that we all love. It can inform, question, challenge, criticise even….but it should not be written to threaten and/or cause personal offence.
By making comments on the above article, you agree to Blues Trust retaining your email address should we need to make contact with you for admin purposes.   Let us know at admin@bluestrust.org if you do not wish us to do this.  We will not give out your email address to any 3rd party sources.
The Trust reserves the right to moderate any comments made (in consultation with the writer) or to deny publication if comments are considered to be inconsistent with the requirements identified above.