The following article has been written by one of our Trust members.  They are the opinions of that person and not necessarily those of Blues Trust.  Would you like to contribute a discussion point of your own about Birmingham City Football Club?  If so, we would be delighted to hear from you.
Yesterday's shock announcement regarding the ousting of John Eustace has bemused all of us. My view obviously, but the fact has emerged very quickly that the owners of our club want a winning mentality throughout. Their words, not mine.
Looking at the overall picture, it appears that apart from Leicester City who are the stand out team so far, Blues are on a par with most other sides in the division and quite capable of being in the mix for promotion come the end of the season. Forget about this season being one of stability. The new owners clearly want to bring it on and join the elite.
And who can blame them? With the likes of Ipswich Town and Preston NE challenging, plus the sluggish Southampton and Leeds United unable to take firm grips since relegation, there is no doubt in my mind that the three central figureheads at the club fancy our chances. Failing automatic promotion, then their sights would no doubt shift to blowing all play-off contenders out of the water.
The January transfer window holds the key and my gut feeling is that that is what they are targeting. Exit John Eustace and enter whoever is their strategy. Simple as that and who are we to question?
What appears to many like a repeat of the kamikaze act à la Rowett and Zola in 2016 shouldn't even be muttered. There really is no comparison. Because unlike previous ownerships, we have the real deal now with trust and faith firmly in our court. Onwards we go.
 Mitchell Bray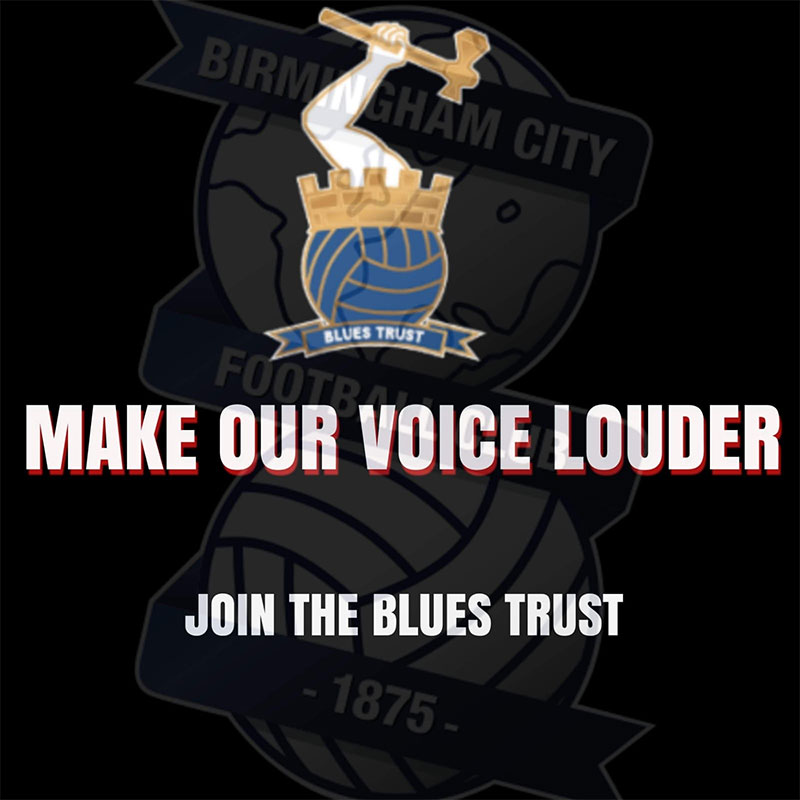 Want to be a full member with voting rights?
We have options for 1 and 2 years at £5 per year.  There is also a 5 year membership for £20 so you get 5 years for the price of 4.  See information and options here.
Have you visited our shop?
To raise funds for Blues Trust, we have for sale :
Blues Trust Pin-badges.
Old Football Programmes that have been donated.
Gift memberships in Blues Trust that you can buy for family or friends.
By making comments:
All we ask is that it relates to the Club that we all love. It can inform, question, challenge, criticise even….but it should not be written to threaten and/or cause personal offence.
By making comments on the above article, you agree to Blues Trust retaining your email address should we need to make contact with you for admin purposes.   Let us know at admin@bluestrust.org if you do not wish us to do this.  We will not give out your email address to any 3rd party sources.
The Trust reserves the right to moderate any comments made (in consultation with the writer) or to deny publication if comments are considered to be inconsistent with the requirements identified above.