Fan-led Review: Interim Report – Our Thoughts
The chair of the Independent Fan Led Review of Football Governance, Tracey Crouch, has written to the Culture Secretary, Oliver Dowden, with her preliminary findings and recommendations. The interim report comes after the expert panel had engaged extensively with key stakeholders including fan groups such as the Blues Trust who provided both oral evidence and a written report.
The headline from the interim report is that football is in need of urgent reform – with many clubs in precarious financial circumstances and dependent on the continuing ability of owners to fund significant losses, coupled with poor financial controls, reckless behaviour by owners and an unwillingness of the authorities to intervene.
The report contains a number of suggested measures to address these issues, many of which were championed by the Blues Trust and other fan groups. These include:
Setting up a new independent regulator to address issues that are most relevant to the risks to the game, especially financial regulation, corporate governance and ownership. The regulator is also likely to cover real time financial monitoring.
Minimum governance requirements for clubs to be introduced including a requirement for independent non-executive directors on club boards. This will be monitored by the new regulator who will also handle revised separate tests for owners and directors of clubs on an initial and ongoing basis.
Greater protection for important club assets – particularly a club's home ground – through a 'golden share' for supporters (to be held by a democratic legally constituted fan group) that provides them with veto powers. Furthermore, the review will develop proposals for additional protections such as enhancing the existing legal provision for 'Assets of Community Value'.
Measures to ensure greater fan engagement and influence at all levels of governance in the game – these will be developed over the summer and informed by the Review's fan survey.
Recommendations to be developed on more effective cost controls and financial management of clubs and further investigation of the disparity of revenue flows. Clubs to be encouraged to maximise revenue generation with a recommendation that League Two clubs to be allowed to operate all-weather pitches
The existing football authorities – The FA, EPL, EFL and National League to have greater independence with, for example, at least 50 per cent of the FA board be composed of independent non-executive directors.
Following supporter feedback a recommendation that the English EFL enter discussions to absorb the National League top division into the EFL structure.
Greater investment in grassroots football, amateur football, and women's football possibly through a levy on transfer or agent fees.
A potential dedicated separate review into the future of women's football
A joined-up approach from the football authorities to improve player welfare, particularly with regard to players released from the academy system.
A recommendation that the Gambling Review hears the concerns of football supporters on gambling advertising and sponsorship in football
The Review will continue to work over the summer before issuing its final recommendations in the Autumn.
Of course, the success of the Review will be judged on the final recommendations and the extent to which they are implemented. Nevertheless, the interim report seems very promising to us with intelligent and reasoned suggestions and many good points that echo a lot of the issues and ideas we raised. The redistribution of revenues remains a challenging area and one where we hope the Review will think more radically over the summer.
Overall a very promising start.
​Blues Trust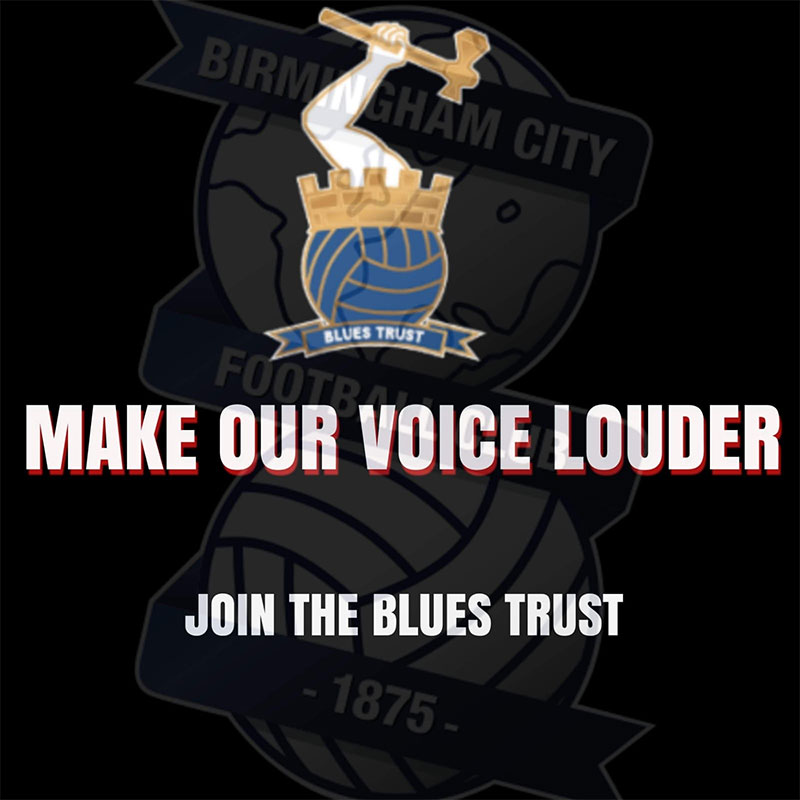 Want to be a full member with voting rights?
We have options for 1 and 2 years at £5 per year.  There is also a 5 year membership for £20 so you get 5 years for the price of 4.  See information and options here.
By making comments on the above article, you agree to Blues Trust retaining your email address should we need to make contact with you for admin purposes.   Let us know at admin@bluestrust.org if you do not wish us to do this.  We will not give out your email address to any 3rd party sources.