The Importance Of Communication
Paul Richardson and Maxi Lopez.  Inset: Matt Southall
Over the last 10 years or so, Blues fans have suffered from a lack of information from our club. And especially so from the owners who have steadfastly chosen to remain in the shadows and decline all opportunities to engage with supporters. This has led to us raising our concerns publicly, usually by writing open letters, press releases, taking to social media and protesting at games. Although completely understandable when faced with such intransigence, still quite a divisive way of trying to support our club in my view. And an approach that sometimes resulted in shaming on social media and falling out between supporters groups.
We all seem to have forgotten that if we have a concern then we should, in the first instance, ask our club and its owners about it and, reasonably, they should take time to give us an open and honest reply.
For the record, I am supportive of the Richardson and Lopez takeover, and I share their ambitions for our club. However, the proposed appointment of Matt Southall has drawn concern and comment on social media from many fans and commentators. Also, Blues Trust has been warned by our counterparts at the Charlton Athletic Supporters Trust of the issues their club had with him.
So, because I feel we are at the beginning of a new era, I thought we should try to deal with this issue in the 'old fashioned' way. The way clubs with togetherness deal with issues. Namely, to raise our concern with the owner, or in this case the soon to be owner, expect an open and honest answer and let fans know what we have been told. We can then decide individually what we think and what our opinions are. We don't all have to agree on every issue. In fact, that is unlikely. But, so long as we are kept in the loop and communicated with regarding our concerns, then more often than not, it will help us to understand what is going on.
Paul Richardson has said in his recent interviews that his intention is to be transparent and open with supporters. Whilst it is very early in his relationship with Blues fans, I have tested this welcome commitment by raising the concerns expressed about Southall. Paul Richardson was contactable and open to talking about the issue, and happy for me to share the discussion publicly. I report on our conversation below, but please be clear the words are mine and not direct quotes from Paul himself.
Firstly, we talked about why Paul would want to appoint someone with a history of actions and allegations that are below the standard most would expect of a CEO, not least when Blues fans have suffered enough in this regard in the recent past. Paul explained that he has known Southall for 10 years and regards him as a friend as well as a good fit for the work required at Blues. Paul explained that he has heard all sides to the issues widely reported at Charlton, and that like most things they are not as straight forward as reported in the press. However, Paul was clear he was not excusing or ignoring wrongdoing, and this had been the subject of detailed discussions between himself, Maxi Lopez and Southall prior to them making their decision about who they wanted for the job.
We went on to discuss what qualities he sees in Southall and that make him the person he wants for his CEO. Paul explained he needs a strong and at times thick skinned individual who will not shy away from making the difficult decisions that will undoubtedly be required. Additionally, he requires someone with experience of being involved at a very senior level of a football club and who understands the intricacies of the Championship and dealings within the tough and sometimes unscrupulous football environment.
We then talked about how Paul operates. He explained that he considers benefits and risks carefully before making decisions. However, he will quickly realise if he has made a poor decision, openly take responsibility for it and correct it. We also spoke about the business, financial processes and controls that he implements, and discussed how the scenarios reported at Charlton could not go unnoticed within the regime he will implement at Birmingham City.
On a personal level I already had confidence that Paul does as he says and has the best interest of our club at heart. Our recent conversation increased my faith in his motives and left me feeling confident in trusting his judgement on this issue. My view on the Southall question is that Blues Trust should of course monitor the situation going forward, and we will, but with confidence that if concerns do arise Paul will be open to addressing them.
In my view it is refreshing that after so many years of mistrust, it seems we can now look forward to an owner interested in fans views and being told how it is from the horse's mouth. Sometimes we may not agree with or like what is communicated to us, but getting consideration, transparency and truth from the top is surely all we can ever ask for.
To get back to the point that my expectations of what to expect from the ownership of the club are different now, and that we are at the start of a new era of engagement with Blues supporters, I want to end with this small note. Last week Blues Trust published an article, "A New Era Dawns", as news of the proposed takeover broke with contracts having been exchanged. The article was supportive of the Richardson and Lopez takeover, but also contained the Trust's expectations of the new owners. Following the appearance of that article, Paul contacted me as Chair of the Trust to assure me that he will get answers to us within days. I explained we were not expecting an immediate reaction, and we agreed that we would be happy to receive the answers and what was planned for our club after completion following EFL approval.  And all being well, at a fans forum for everyone to hear. Blues Trust had previously asked these questions in the media for many years, but without any acknowledgement or response.
Going forward it looks like we can now expect to be able to raise questions and concerns directly with the club and get answers to share with fans. In my view that is a much better way for all concerned than shaming on social media.
Cliff Horrocks
Chair,

Blues Trust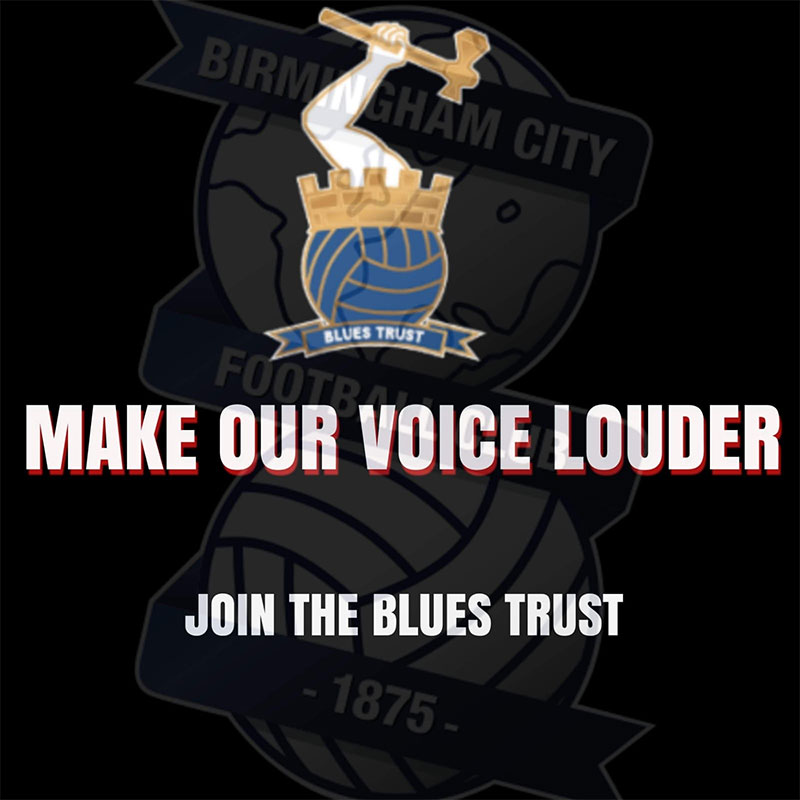 Want to be a full member with voting rights?
We have options for 1 and 2 years at £5 per year.  There is also a 5 year membership for £20 so you get 5 years for the price of 4.  See information and options here.
By making comments:
All we ask is that it relates to the Club that we all love. It can inform, question, challenge, criticise even….but it should not be written to threaten and/or cause personal offence.
By making comments on the above article, you agree to Blues Trust retaining your email address should we need to make contact with you for admin purposes.   Let us know at admin@bluestrust.org if you do not wish us to do this.  We will not give out your email address to any 3rd party sources.
The Trust reserves the right to moderate any comments made (in consultation with the writer) or to deny publication if comments are considered to be inconsistent with the requirements identified above.